Once thought of largely as opportunities for conversion to residential lofts and open offices, the close-in urban warehouse is having a resurgence in popularity. Accelerating growth of e-commerce and rising demand from consumers for next-day delivery has highlighted the need for companies to locate warehouses and distribution centers close to densely populated city centers. According to the U.S. Census Bureau, in the second quarter of 2019, e-commerce sales in the U.S. totaled $146.2 billion, or 10.7% of total retail sales. There will be approximately 1.92 billion online shoppers globally in 2019, which is roughly a quarter of the world's population; their activity is pushing retailers' demand for distribution centers near urban cores.
While retailers generally have located their distribution centers outside the limits of major population centers due to higher rents, taxes, labor costs and traffic congestion, now they are focusing on locating those facilities as close as possible to the sources of demand. Much of this demand comes from millennials, who disproportionately are choosing to live in large metro areas, and who value faster delivery of online purchases. This incentive has led to locating last-mile distribution centers at urban warehouses, simultaneously shortening delivery times, alleviating rising supply chain costs, and enhancing the value of close-in distribution space.
Featured Market: Chicago
Chicago's industrial market, like many others around the nation, has performed very well over the past several years. In the second quarter of 2019, the market recorded its 37th consecutive quarter of positive absorption, and rental rates climbed to a record $5.68/SF. Development also remained active, with more than 9 million square feet of product under construction. A majority of this activity has been in submarkets around the airports or peripheral submarkets where land is readily available.
By contrast, Chicago's South City—a close-in location for industrial product—has only seen 2.3 million square feet of new development over the past ten years, or 1.5% of the total new construction that has delivered in Chicagoland during the same ten-year period. Half of the 2.3 million square feet has delivered since the start of 2017. All of this new inventory that has delivered is made up of warehouses and distribution centers: Whole Foods, Hacienda Foods, First Logistics, AmyLu Foods, 86 Food Services and Preferred Freezer Services are some of the main tenants in these buildings.
This spike in leasing activity has greatly increased the value of such close-in product. The average sold price per square foot for industrial buildings in the City of Chicago increased from $24/SF to $76/SF from 2010 to 2019, an increase of 216%. That same metric grew by only 51% for sales metro-wide.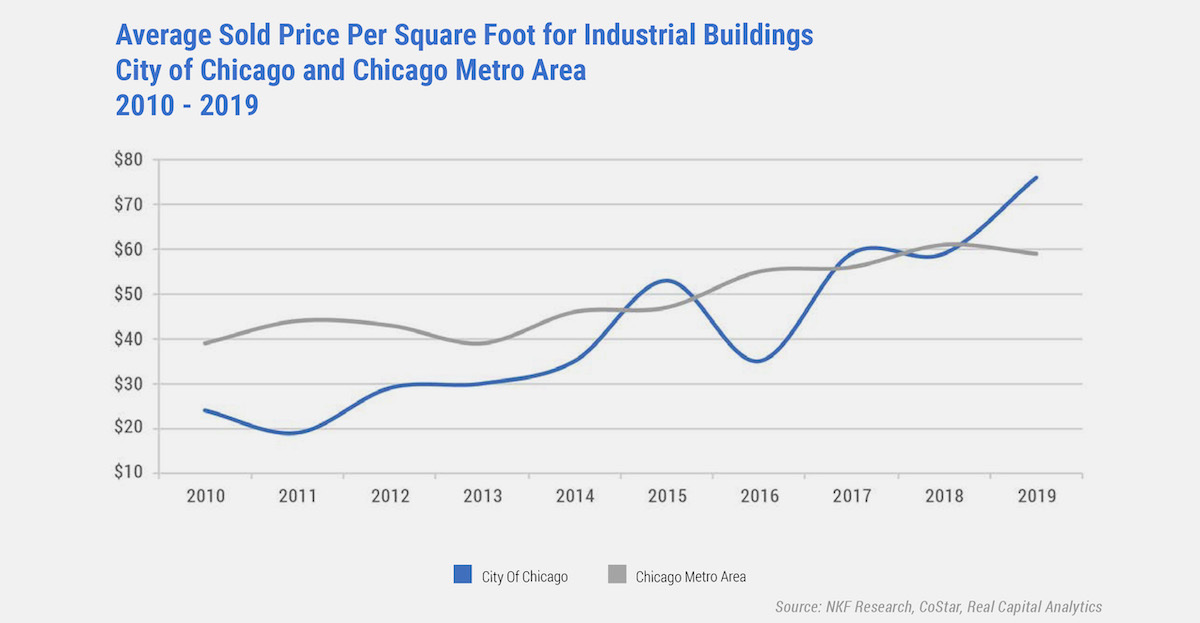 While limited supply and land coupled with rising demand is driving values up, so are the qualities tenants are seeking in new buildings. Prospective occupants of last-mile facilities often are looking for 28- to 32-foot clear heights, modern design, plentiful dock-high and ground-level doors and LEED elements. One example of this in Chicago is Exchange 55, a distribution center that is currently under construction on a former coal site, just seven miles outside of the Chicago Central Business District. The building is slated to be one million square feet with 40-foot clear heights, 315 trailer stalls, four drive-in doors and 118 loading docks. These types of properties, while plentiful in the suburbs, are limited in the city and will further escalate rents and values.
What Are the Implications for Our Clients?
As e-commerce grows further and consumers continue to prioritize immediacy, well-positioned urban warehouses likely will remain an important part of the industrial inventory and an appealing investment opportunity. Investors with capital to deploy may wish to consider properties that allow their tenants easy access to labor, as that tends to be a roadblock for distribution centers. As we noted in the July issue of Real Insight, some investors might consider multi-story warehouses as a last-mile option. Current owners of older properties can take advantage of a competitive market and consider selling, or renovating in order to attract distribution tenants. From a tenant's perspective, seeking space in these close-in markets necessitates analyzing the costs of higher rents coupled with lower transportation costs for deliveries—all in the context of locating within city limits where taxes and labor costs often are higher. On balance, urban warehouses have gained in popularity because of the high priority tenants are placing on location in a competitive e-commerce ecosystem.
Research Sources: Newmark Research, CoStar, Real Capital Analytics, U.S. Census Bureau