The National Trend: Retail Has Become a Defining Characteristic of Mixed-Use Developments
A strong retail component is one of the most crucial aspects of mixed-use development, as it creates synergy and empowers the office and residential portions of a project. However, thorough due diligence is required first, as successful retail is contingent on multiple factors including population density, targeted income levels, visibility, accessibility and healthy traffic counts and/or high walkability. Carefully balancing the retail tenancy of a mixed-use development is also essential; a gym and a health nutrition store are complementary, while two grocers in the same center likely are not.
A successful retail environment can foster an ecosystem that supports a mixed-use project but also is independent of it. Both scenarios elevate a development's appeal, and, subsequently, its rents. Urban restaurants are a prime example since they serve office workers in the daytime and create nightlife, too. A popular, new-to-market apparel retailer will net business from office workers, while consumers in the trade area will come to the new store; some of these visitors will dine at a nearby restaurant after shopping. A Whole Foods at the ground floor of an apartment development will attract residents from the residential units above, pairing with shoppers in the surrounding community; adjacent retailers will benefit from the grocer's foot traffic regardless of where those shoppers' trips originated.
Featured Market: Los Angeles
The Bloc in Downtown Los Angeles highlights how well curated retail enhances a mixed-use development. Located at the southern edge of the Financial District, with proximity to South Park—where high-rise residential construction is prominent—the Bloc once was an enclosed and dying mall, with an adjacent 33-story office building and 485-room Sheraton. This changed in 2016 when it was reintroduced as an open-air center, with 400,000 square feet of shops and restaurants anchored by a Macy's flagship store and a future Alamo Drafthouse Cinema. Both the office tower and Sheraton remain.
New retailers include Downtown's first UNIQLO, a Nordstrom Local and Starbucks, while LA Fitness is among its legacy tenants. The project has a 98 Walk Score and 100 Rider's Score thanks to multiple nearby bus stops and a tunnel that leads to the 7th & Metro commuter rail station; the transit access is supported by a multi-story parking garage. The rail station is a notable selling point since Los Angeles has the worst roadway congestion in the nation, and train ridership will increase amid network enhancements across the county. Downtown is where all rail lines converge.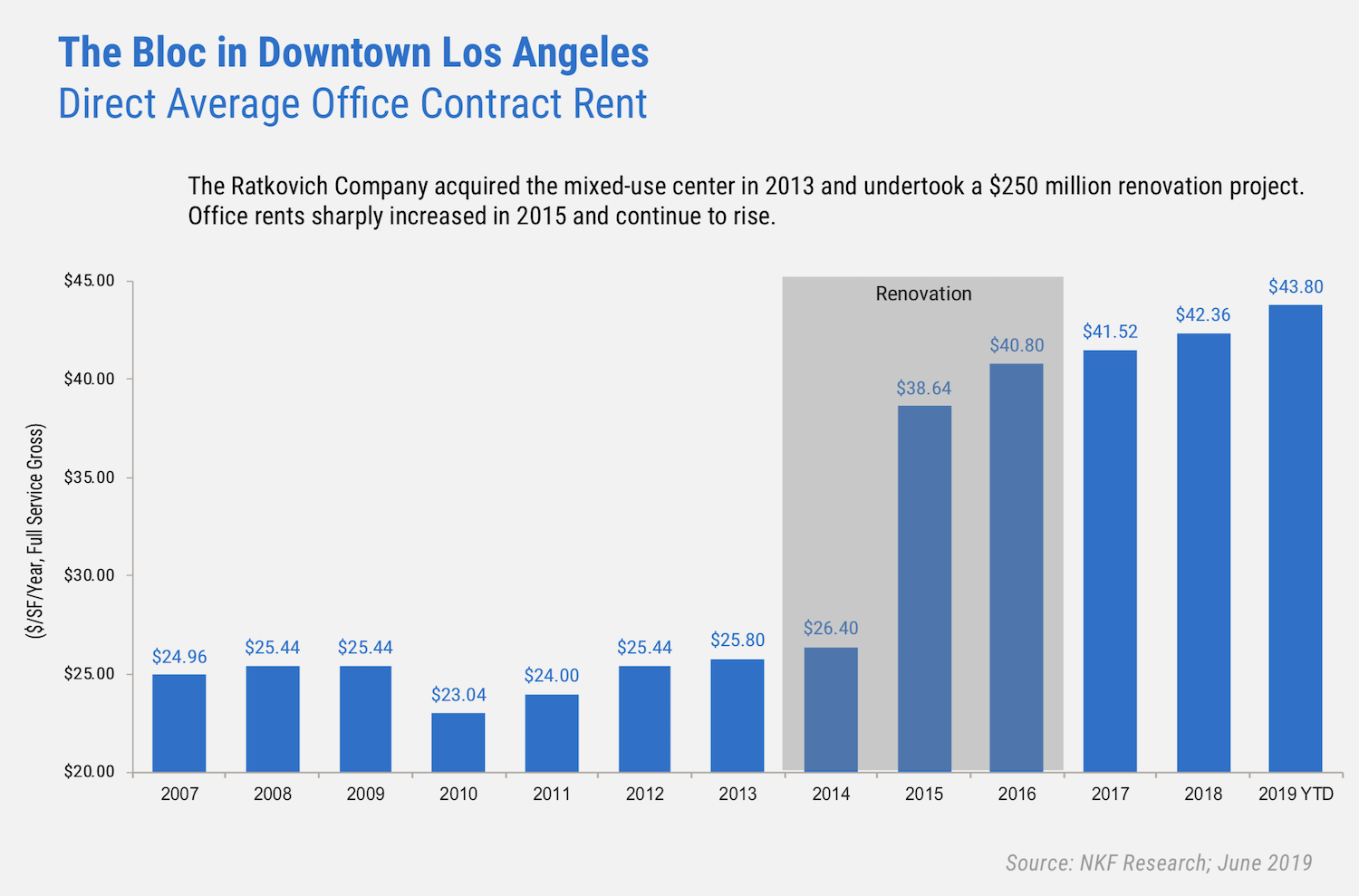 There is a strong correlation between The Bloc's renovation and a run-up in its office rents, which the adjacent graph highlights. The average office contract rent jumped by 46.4% from 2014 to 2015, with continuing gains since.
What Are the Implications for Our Clients?
Strong retail can breathe life into a development, whether it is a new project or an extensive renovation. The challenge with mixed-use developments is one of timing, however—a classic chicken-or-egg dilemma. If the success of a mixed-use project is contingent on the synergy of its pieces, then attractive street-level retail is necessary before a developer can increase rents for office or multifamily space above. Knowing this, many developers offer rent discounts to secure retail tenants on the ground floor early in a project's creation. Some developers are open to short-term leases (for example, a trendy pop-up retailer may serve as a placeholder until a prominent brand steps in), while others try to lure desired long-term tenants through generous tenant improvement allowances. Of course, the retailers prefer to have potential customers already in place (in adjacent apartments or office space) before committing to a long-term lease.
Retail space is best designed with future flexibility in mind. For example, consumer expectations generally are causing storefront footprints to shrink amid rising e-commerce sales. Further, convenience apps such as Postmates and Doordash, which allow consumers to have items delivered to their doorsteps at any time, have altered the psychology and expectations of many shoppers. In addition, a premium on instant gratification is influencing how retailers evaluate mixed-use centers. The Bloc's Nordstrom Local plays into this, while its UNIQLO and Alamo Drafthouse are the antidotes: the UNIQLO store benefits from its exclusivity, while the Alamo Drafthouse is both new-to-market and experiential.
A unique or trophy retailer can do wonders for nearby property values. For instance, researchers in Newmark's Washington, D.C. office developed a white paper on the correlation of multifamily rents near a Whole Foods, and found apartments close to the grocer had on average an 8.4% higher effective rent than the average for the surrounding submarket. The "Whole Foods effect"—for years a premise of mixed-use development—does indeed exist.
For investors, mixed-use developments with a strong retail component provide diversification, which helps balance a portfolio and can offer some downside protection in a cooling economy. Such properties have a variety of uses and tenants, suggesting owners can better insulate themselves against large vacancies compared to single-use assets. Urban mixed-use centers often benefit from high walk scores, tourism and the live-work-play model, while larger suburban developments can achieve success by fostering a community while also appealing to shoppers outside of that community. This often includes a residential component juxtaposed with varied—yet complementary—retail profiles, some of which are destination retailers. For instance, a project's concert venue may carry foot traffic to its specialty stores and restaurants.