9:00 AM









Newmark today announced that it has been appointed as the exclusive office leasing agent for Metropolitan Square at 655 15th Street, NW. Owned by Boston Properties, Blackstone (NYSE: BX) and Equity Office, an office portfolio company owed by Blackstone's real estate funds, the property will undergo a strategically planned renovation further transforming it into an extraordinary asset able to fit the needs of today's Washington, DC office users, including a new modern atrium and lobby and unprecedented tenant amenities.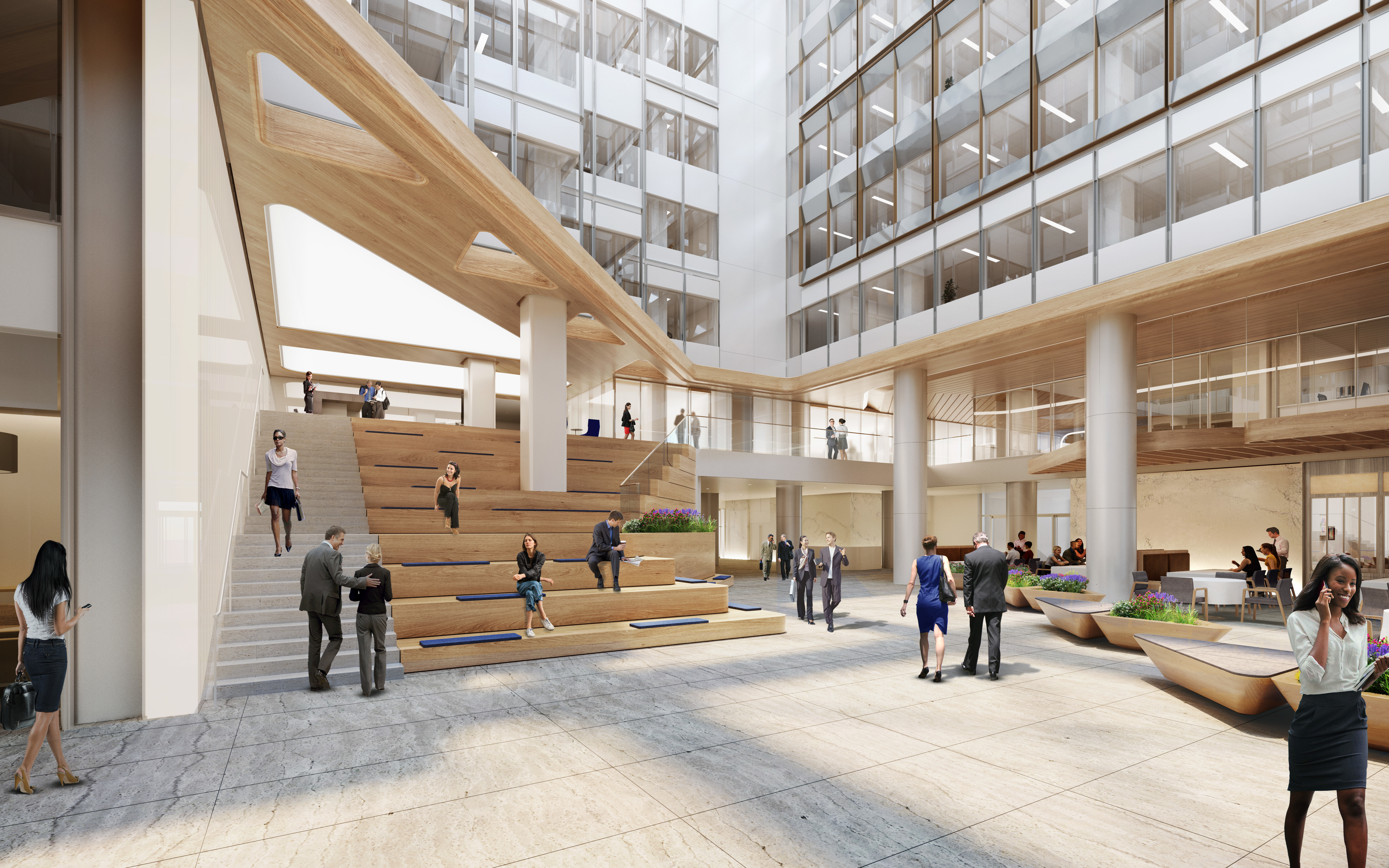 Gensler has been retained by the building's owners to design a series of extensive renovations to be completed by 2020. The 670,000-square-foot building will feature new lobby finishes and atrium glass, new common areas and restrooms, a tenant-only fitness center with spa-quality restrooms and lockers, an expansive tenant lounge and collaboration zone, a new conference facility, private event spaces, a bike storage facility and a stunning rooftop terrace. The renovation plans also include several innovative and collaborative trophy-quality spec suites ranging in size and price point. Currently available in the building are the top three floors of contiguous office space totaling 140,000 square feet.
"Adjacent to the White House and overlooking the Treasury Department, National Mall, Washington Monument and Potomac River, the building's powerful location combined with the new renovations will result in Met Square once again becoming one of Washington's most coveted assets," said Newmark's Chairman of Asset Services Brendan Owen.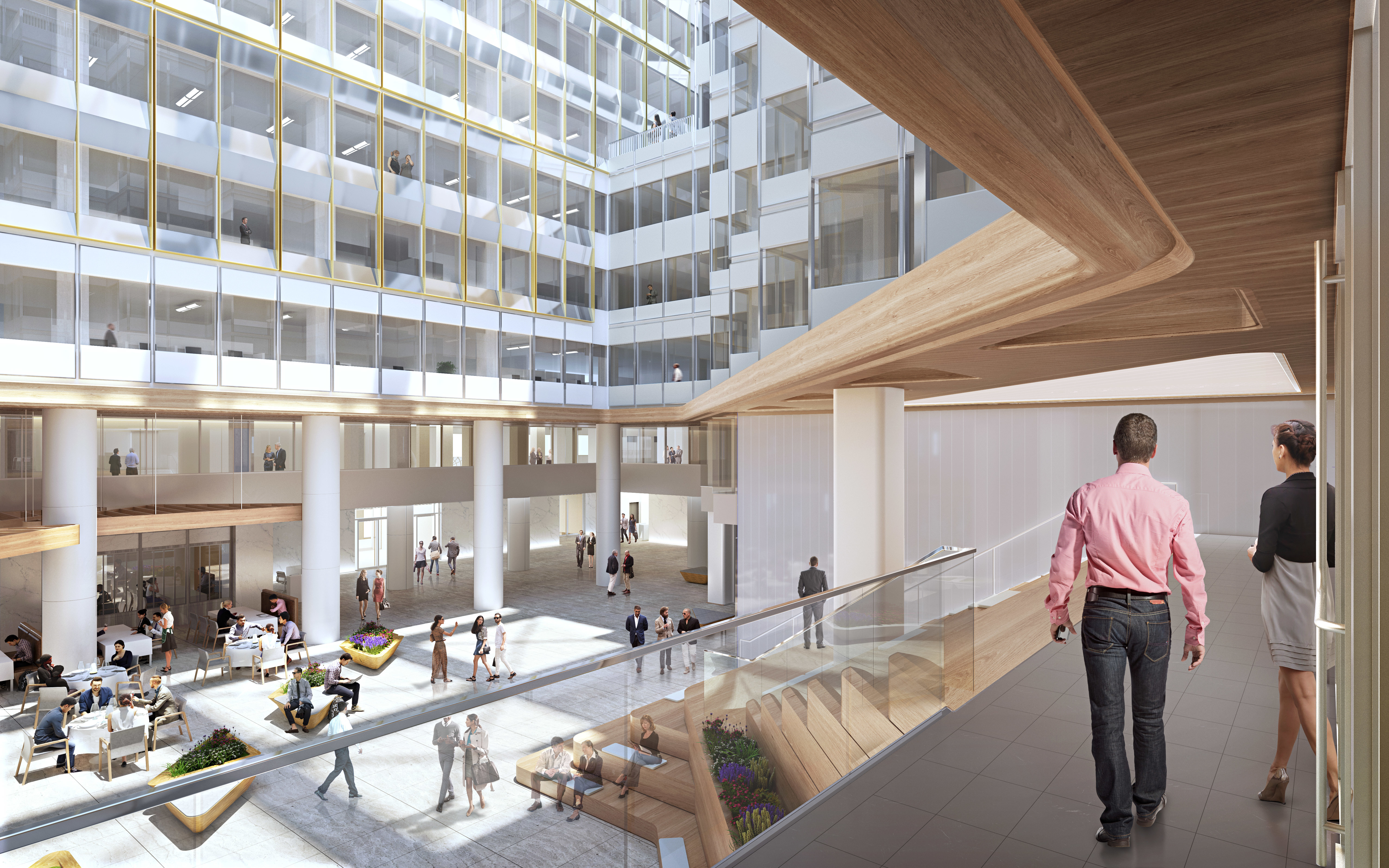 Since the property was built in 1982, Metropolitan Square has been home to the celebrated Old Ebbitt Grill, currently the highest grossing independent restaurant in Washington, DC and the fifth highest grossing independent restaurant in the country. WeWork recently moved into 117,000 square feet creating its signature brand of shared workspaces.
Owen, Executive Managing Director Edwin M. Clark III, Associate Director Rafael Notario and Associate Morgan Monroe, will handle the leasing of the office space. Regional DC Marketing Director Alicia Karr will lead the marketing initiatives to rebrand and reposition the building.

About Equity Office
The Equity Office (EOP) portfolio, encompassing more than 50 million square feet of Class A office space throughout the US, is rich with signature properties in the nation's leading gateway markets. EOP focuses heavily on meeting the current trends and changing strategic needs of companies in its chosen markets. It relies on a connected coalition of informed and market sensitive regional leadership groups made up of seasoned real estate professionals who keenly understand the nuances of their individual markets. With an average tenure of over 25 years in the real estate industry, EOP's regional leaders also head teams with deep experience across the board from investment and asset management, to property management, development and construction.
EOP's regional operations draw on the financial power and legendary prestige of one of the largest commercial real estate firms in the nation. As an affiliate of The Blackstone Group, a preeminent global equity firm providing significant financial strength and long-term stability, EOP is extremely well capitalized.
About Blackstone
Blackstone is one of the world's leading investment firms. It seeks to create positive economic impact and long-term value for its investors, the companies it invests in, and for the communities in which the firm works. Blackstone does this by using extraordinary people and flexible capital to help companies solve problems. Its asset management businesses, with over $360 billion in assets under management, include investment vehicles focused on private equity, real estate, public debt and equity, non-investment grade credit, real assets and secondary funds, all on a global basis. Further information is available at www.blackstone.com. Follow Blackstone on Twitter @Blackstone.

About Boston Properties, Inc.
Boston Properties is a fully integrated real estate investment trust that develops, redevelops, acquires, manages, operates and owns a diverse portfolio of primarily Class A office space totaling 47.7 million square feet and consisting of 164 office properties (including six properties under construction), five retail properties, four residential properties and one hotel. The Company is one of the largest owners and developers of Class A office properties in the United States, concentrated in five markets-Boston, Los Angeles, New York, San Francisco and Washington, DC.

For more information about Boston Properties, please visit its web site at www.bostonproperties.com.
About Newmark
Newmark is one of the world's leading commercial real estate advisory firms. Together with London-based partner Knight Frank and independently-owned offices, Newmark's 15,000 professionals operate from more than 400 offices in established and emerging property markets on six continents.
With roots dating back to 1929, Newmark's strong foundation makes it one of the most trusted names in commercial real estate. Newmark's full-service platform comprises BGC's real estate services segment, offering commercial real estate tenants, landlords, investors and developers a wide range of services including leasing; capital markets services, including investment sales, debt placement, appraisal, and valuation services; commercial mortgage brokerage services; as well as corporate advisory services, consulting, project and development management, and property and corporate facilities management services. For further information, visit www.ngkf.com.

Newmark is a part of BGC Partners, Inc., a leading global brokerage company servicing the financial and real estate markets. BGC's common stock trades on the NASDAQ Global Select Market under the ticker symbol (NASDAQ: BGCP). BGC also has an outstanding bond issuance of Senior Notes due June 15, 2042, which trade on the New York Stock Exchange under the symbol (NYSE: BGCA). BGC Partners is led by Chairman and Chief Executive Officer Howard W. Lutnick. For more information, please visit www.bgcpartners.com.