9:00 AM
Newmark Capital Markets is pleased to announce that Kevin Welsh, Brian Schulz and Jason Emrani of the firm's Tri-State Capital Markets Team in collaboration with Matt O'Hare from CBRE's New Haven office, represented a major financial institution in the 100% interest sale of three industrial assets totaling 788,000 square feet, located in Meriden and Cheshire Connecticut. The team was also responsible for procuring the buyer, Sky Management Services, based in New York. Newmark Capital Markets' Debt & Structured Finance team of Jordy Roeschlaub, Dustin Stolly and Robert Tonnessen also secured acquisition financing for the purchase.
The properties in the portfolio include:
160 Corporate Court, Meriden, CT - 241,000-sqaure-foot facility featuring 27' ceiling heights and 1 per 4,641-square-foot cross dock loading that is 100% leased to Sports Direct, the largest UK Sports Retailer
550 Research Parkway, Meriden, CT - 338,000-square-foot facility that is 100% leased to Medline Industries, the largest private provider of medical supplies and solutions in the U.S., and Fosdick Fulfillment, a Meriden, CT based global logistics company
611-617 West Johnson Avenue, Cheshire, CT - A four building 209,000-square-foot industrial complex situated on 19.2 acres that is 52% leased to a diverse base of tenants, providing substantial upside with flexibility to capture a wide array of tenant demand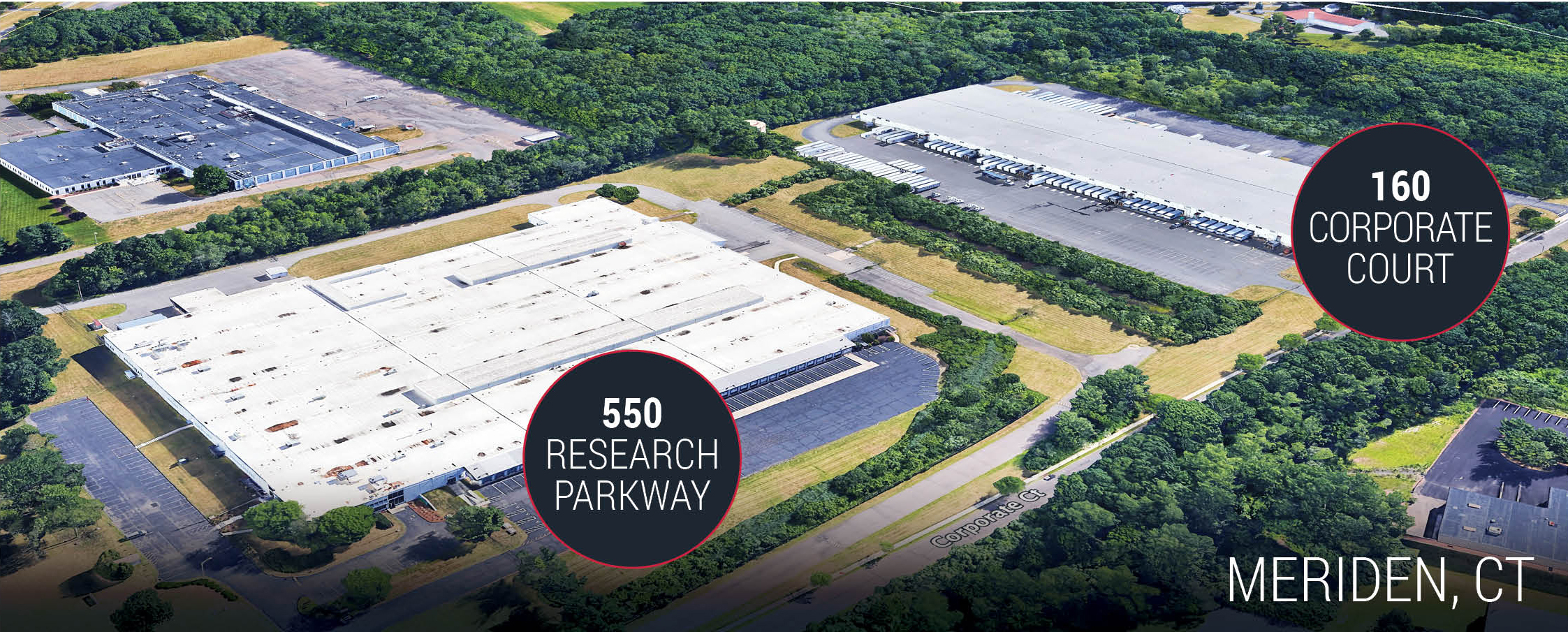 "The Portfolio is located at the midpoint of the Boston-NYC corridor, an ideal location for regional distribution, with building features that accommodate a variety of uses including E-commerce, light manufacturing and distribution," said Schulz, managing director. "Sky will benefit from reliable in-place cash flow, demonstrated by an average historical occupancy of 19 years for the two largest tenants, with increasing yields and substantial value enhancement through the lease up of the Cheshire asset."
About Newmark Capital Markets
Newmark Capital Markets, operated by Newmark Group, Inc., is one of the world's leading commercial real estate advisory firms. Together with London-based partner Knight Frank and independently-owned offices, our 15,000 professionals operate from more than 400 offices in established and emerging property markets on six continents.
With roots dating back to 1929, our strong foundation makes us one of the most trusted names in commercial real estate. We provide access to a wide range of services, including asset sales, sale leasebacks, mortgage and entity-level financing, equity raising, underwriting and due diligence. The transactions we broker involve vacant land, new real estate developments and existing buildings. We specialize in arranging financing for most types of value-added commercial real estate, including land, condominium conversions, subdivisions, office, retail, industrial, multifamily, student housing, hotels, data center, healthcare, self-storage and special use. For further information, visit www.ngkf.com/capitalmarkets.
Newmark Group, Inc., which is listed on the NASDAQ Global Select Market under the symbol "NMRK", is a publicly traded subsidiary of BGC Partners, Inc. ("BGC"), a leading global brokerage company servicing the financial and real estate markets. BGC's common stock trades on the NASDAQ Global Select Market under the ticker symbol "BGCP". BGC also has an outstanding bond issuance of Senior Notes due June 15, 2042, which trade on the New York Stock Exchange under the symbol "BGCA".
Discussion of Forward-Looking Statements about Newmark Group, Inc.
Statements in this document regarding Newmark Group, Inc. that are not historical facts are "forward-looking statements" that involve risks and uncertainties, which could cause actual results to differ from those contained in the forward-looking statements. Except as required by law, Newmark Group, Inc. undertakes no obligation to update any forward-looking statements. For a discussion of additional risks and uncertainties, which could cause actual results to differ from those contained in the forward-looking statements, see Newmark Group, Inc.'s Securities and Exchange Commission filings, including, but not limited to, any updates to such risk factors contained in subsequent Forms 10-K, 10-Q, or Forms 8-K.