9:00 AM
Newmark is pleased to announce the development of a 617,760-square-foot industrial build-to-suit (BTS) facility on more than 46 acres in the greater Cincinnati area for Design Within Reach (DWR). DWR signed a long-term lease with Duke Realty for the distribution center, which will be utilized for e-commerce and omni-channel fulfillment across North America. The Newmark team comprising Executive Managing Director Geoffrey Kasselman, SIOR, LEED AP; Executive Vice President and Managing Director James Ritman; Executive Managing Director Si Pitstick, SIOR; Senior Managing Director Josh Young, SIOR; Senior Managing Director Tim Brogan and Senior Managing Director Steve Bonge represented DWR in the transaction. Newmark also provided important labor analytics and incentives guidance and arranged for architecture firm Ware Malcomb to design the exterior ground-up construction and interior improvements. The project is slated to be finished in early 2019.

The new facility will be "future-proofed" with building design components that will include LED lighting throughout warehouse, office and exterior, extra roof structural support to house a future solar energy system, pre-installed conduit for several parking spaces to support electric vehicle charging, and provisions for a second primary power service from a different substation to support unimpeded operations under any circumstance. The advanced facility will be the first in a new business park in South Afton, located in Clermont County, Ohio.

The Ohio-based facility will replace two existing warehouses in Hebron, KY, which DWR has outgrown given its growing and expansive brand. Newmark helped DWR secure the second Hebron warehouse in 2017 to alleviate growth pains on a temporary basis, while arranging this South Afton space as a long-term solution. As part of the project, Newmark also restructured the two Hebron leases to coincide with the delivery of the new BTS facility.

"We're thrilled to have found and helped to craft the optimal distribution and fulfillment solution for Design Within Reach that meets all of its dynamic specifications," said Mr. Kasselman. "DWR's need for such e-commerce space is a true testament to the growth of the company, and we're happy to partner with them yet again to secure a significant state-of-the-art omni-channel distribution center to support its current needs, help drive further growth and ultimately, to propel the brand forward."

"We couldn't be more excited about the facility staying in the greater Cincinnati-area," DWR President John McPhee said of the deal. "This facility gives us the ability to service our existing demand as well as accommodate our future expansion plans."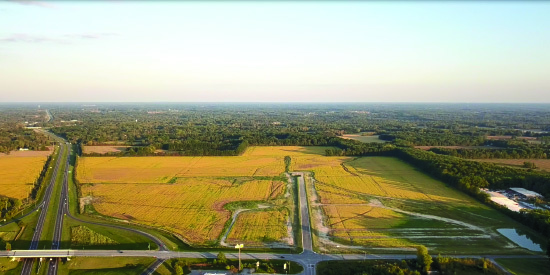 Negotiations included all facets of building and systems design, accelerated delivery with a compressed construction schedule, and an allowance for an additional 112,320 square foot expansion to the facility. The precast building will feature 36' clear ceilings, a cross-dock design, ESFR sprinklers, and have 12,000 square feet of office space which will include many unique on-site employee amenities. DWR will employ approximately 75 people on a full-time basis at this facility.

This is not the first time Newmark and DWR have partnered together. Mr. Ritman previously represented the furniture company when it moved its headquarters from San Francisco to Stamford, CT, and actively represents DWR on its retail locations around the USA, serving as a strategic partner and helping DWR grow and thrive as a company.

Additionally, this is the second world-class e-commerce deal led by Mr. Kasselman for Newmark in the past 12 months. He previously secured a 1.1 million square foot long-term lease on behalf of ASOS. Newmark has quickly become a national leader in e-commerce warehouse space working with such notable players as Saddle Creek Logistics, Walmart, Hayneedle, DHL, and many others.

About Design Within Reach
Design Within Reach, Inc., founded in 1998 and headquartered in Stamford, Connecticut, is the world leader in authentic modern design. The company sells its furniture and accessories to residential and commercial customers through retail Studios in North America, via the Web at dwr.com, by phone at 1.800.944.2233 and through the DWR Contract Division at dwrcontract.com. Design Within Reach, Inc., is a subsidiary of Herman Miller, Inc.
About Herman Miller, Inc.
Herman Miller is a globally recognized provider of furnishings and related technologies and services. Headquartered in West Michigan, the global company has relied on innovative design for over 100 years to solve problems for people wherever they work, live, learn and heal. Herman Miller's designs are part of museum collections worldwide, and the company is a past recipient of the Smithsonian Institution's Cooper Hewitt National Design Award. Known and respected for its leadership in corporate social responsibility, Herman Miller has earned the Human Rights Campaign Foundation's top rating in its Corporate Equality Index ten years in a row, was named a 2016 Top 100 Healthiest Employer and has earned numerous global sustainability awards. In fiscal 2018, the company generated $2.4 billion in revenue and employed nearly 8,000 people worldwide. NASDAQ: MLHR.

About Newmark
Newmark ("Newmark"), operated by Newmark Group, Inc. ("Newmark Group") (NASDAQ: NMRK), is one of the world's leading and most trusted commercial real estate advisory firms, offering a complete suite of services and products for both owners and occupiers. Together with London-based partner Knight Frank and independently-owned offices, Newmark's 16,000 professionals operate from approximately 430 offices on six continents. Newmark's investor/owner services and products include investment sales, agency leasing, property management, valuation and advisory, diligence, underwriting, government-sponsored enterprise lending, loan servicing, debt and structured finance and loan sales. Occupier services and products include tenant representation, real estate management technology systems, workplace and occupancy strategy, global corporate services consulting, project management, lease administration and facilities management. For further information, visit www.ngkf.com. Newmark Group is a publicly traded subsidiary of BGC Partners, Inc. ("BGC") (NASDAQ: BGCP), a leading global brokerage company servicing the financial and real estate markets.
Discussion of Forward-Looking Statements about Newmark Group
Statements in this document regarding Newmark Group that are not historical facts are "forward-looking statements" that involve risks and uncertainties, which could cause actual results to differ from those contained in the forward-looking statements. Except as required by law, Newmark Group undertakes no obligation to update any forward-looking statements. For a discussion of additional risks and uncertainties, which could cause actual results to differ from those contained in the forward-looking statements, see Newmark Group's and BGC's Securities and Exchange Commission filings, including, but not limited to, any updates to such risk factors contained in subsequent Forms 10-K, 10-Q, or Forms 8-K.