2:00 PM
Newmark Grubb Knight Frank (NGKF) is pleased to announce that Karin Kraai and Jon Cordell, senior managing directors in the firm's Chicago office, recently spoke at a Chicago Office Leasing Brokers Association (COLBA) luncheon. Held on February 22nd, the event took place at 209 South LaSalle Street in Chicago (The Rookery) and was hosted by building ownership. NGKF, selected as exclusive office leasing agents of The Rookery in September 2016, was asked to present at the luncheon.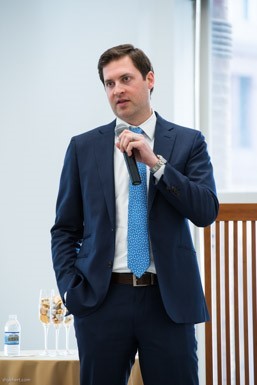 Approximately 100 guests attended the event, which featured Chicago City Treasurer Kurt Summers as the keynote. Summers discussed the financial status of the city of Chicago along with the challenges, opportunities and plans for the city's future. NGKF's Kraai and Cordell spoke about The Rookery's available office space, upgraded amenities at the building, the property's history and future, as well as ownership's investment.
"As Chicago's Treasurer, I know that attaining home ownership is critical to strengthening Chicago's 77 neighborhoods," Treasurer Summers said. "Growing up on the South Side in Bronzeville, I recognized from a young age the difference between my neighborhood and the neighborhoods I visited for trips to the Lincoln Park Zoo or Wrigley Field. What was missing from my neighborhood then is still missing today, thirty years later. Our Chicago is one Chicago and stability in the South and West Side means stability for our entire city. I had a wonderful time speaking at the COLBA event and to a group of people that understand the importance of providing opportunities for economic growth in our city."
"In recent years, ownership has completed a multitude of capital improvement projects to The Rookery in order to combine its famed architecture along with today's latest amenities in order to attract the modern tenant," said NGKF's Kraai. During the luncheon, Kraai and Cordell discussed some of the newer amenities at the building, which include: a bike room with men's and women's showers, new restrooms with five-star hotel grade finishes, new spec suites and full-floor open spaces offering efficient and flexible work environments, as well as new mechanicals and interior finishes to the elevator cabs. "The Rookery is the world's first steel skyscraper that anchored the Chicago plan so it is exciting to bring the interiors to 2017 in a historic shell, especially when there is space available for the first time in a decade," added Cordell.

One of Chicago's most historic office buildings, The Rookery, is located at the corner of LaSalle and Adams Streets in Chicago's Central Loop. Built in 1886 by Burnham & Root, Frank Lloyd Wright redesigned the building's lobby in 1905. The Rookery was added to the National Register of Historic Places and also designated a Chicago landmark in 1972. It was named a national historic landmark a few years later, in 1975. Current tenants of The Rookery benefit from on-site building management, 24-hour secure access, long-term ownership as well as on-site retail including Brooks Brothers, US Bank, Verizon Wireless store and Potbelly Sandwich Works, to name a few. Property Management for The Rookery is provided by The John Buck Company. Since assuming management for the property in 2009, The John Buck Company has increased the building's Energy Score by 35 percent, implemented energy reduction measures, obtained LEED Gold Certification for the building and successfully completed several complicated capital projects.
"The COLBA event could not have turned out any better," said Julia Hudspeth of The John Buck Company. "The turnout was superb and after giving a few tours to brokers that could stick around, people were raving about how beautiful the building and suites looked."
About COLBA
Established in 1981, Chicago Office Leasing Brokers Association (COLBA) is a non-for-profit association whose mission is to improve the professionalism within the office leasing business to create a better environment for office leasing brokers representing tenants or landlords. The association is comprised of more than 150 Chicago area real estate brokers and salespersons who are top executives in the industry. For more information, please visit http://colbachicago.org/.
About The John Buck Company
Founded in 1981, The John Buck Company has established a track record and reputation as a premier, vertically-integrated real estate operating company focused on major U.S. urban markets. Since inception, the company has successfully completed over $10.5 billion of real estate transactions and acquired, developed or redeveloped over 41 million square feet of office, high-rise residential, hotel, retail and mixed-use properties. After more than 30 years of shifting ahead of the curve and redefining boundaries, The John Buck Company is writing the next chapter. Learn more at http://www.tjbc.com.
About Newmark Grubb Knight Frank
Newmark Grubb Knight Frank (NGKF) is one of the world's leading commercial real estate advisory firms. Together with London-based partner Knight Frank and independently-owned offices, NGKF's 14,100 professionals operate from more than 400 offices in established and emerging property markets on six continents.
With roots dating back to 1929, NGKF's strong foundation makes it one of the most trusted names in commercial real estate. NGKF's full-service platform comprises BGC's real estate services segment, offering commercial real estate tenants, landlords, investors and developers a wide range of services including leasing; capital markets services, including investment sales, debt placement, appraisal, and valuation services; commercial mortgage brokerage services; as well as corporate advisory services, consulting, project and development management, and property and corporate facilities management services. For further information, visit www.ngkf.com.

NGKF is a part of BGC Partners, Inc., a leading global brokerage company servicing the financial and real estate markets. BGC's common stock trades on the NASDAQ Global Select Market under the ticker symbol (NASDAQ: BGCP). BGC also has an outstanding bond issuance of Senior Notes due June 15, 2042, which trade on the New York Stock Exchange under the symbol (NYSE: BGCA). BGC Partners is led by Chairman and Chief Executive Officer Howard W. Lutnick. For more information, please visit http://www.bgcpartners.com/.