8:30 AM
Newmark today announced that Penzance has completed two retail leases with leading early education and preschool provider Bright Horizons at 2000 N. 14th Street and 4001 N. Fairfax Drive.
Bright Horizons at Courthouse Station, located at 2000 N. 14th Street, opened February 4, 2019 and is proximate to the Arlington Courthouse. The center occupies 13,000 square feet and serves children ages six weeks through five years. Highlights include a dedicated outdoor playground, indoor movement zone for daily physical activity and a catered lunch option.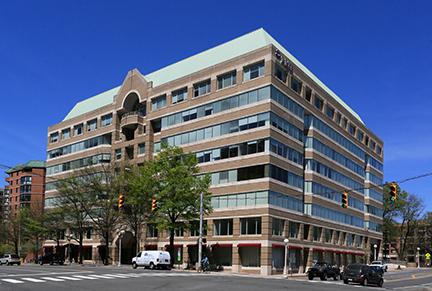 A lease was also signed for a second location in Ballston at 4001 N. Fairfax Drive. That center is in the early phases of construction and is tentatively scheduled to open in 2020. Plans for the Ballston Bright Horizons include a 4,700-square-foot playground.
Newmark Executive Managing Director Andy Klaff and Managing Director Jeff Tarae represented Penzance in the two transactions. Bright Horizons was represented by Connor Faught of Colliers International.

"Bright Horizons is a premier early education provider and expanding its presence in Arlington fills a void for young families looking for quality child care options," said Tarae. "We were thrilled to work with Penzance on lease negotiations for the two new optimally located Bright Horizons locations."
About Penzance
Penzance is a leading Washington, D.C.-based fully-integrated real estate investment company with a proven track record. Penzance has a history of utilizing creative strategies to maximize value and drive NOI growth. The Company currently manages approximately 1.5 million square feet of office and has ownership interests in approximately 1,900 residential units.
About Bright Horizons
Bright Horizons is trusted by families around the world to provide care and education for their children. Operating approximately 1,100 child care centers, Bright Horizons cares for approximately 120,000 children annually in the United States, the United Kingdom, the Netherlands, Canada and India. Used by more than 1,100 of the world's best employers across industries, Bright Horizons back-up child and elder care, tuition program management, education advising, and student loan repayment programs support employees through every life and career stage, and help people succeed at work and at home. For more information, go to www.brighthorizons.com.

About Newmark
Newmark ("Newmark"), operated by Newmark Group, Inc. ("Newmark Group") (NASDAQ: NMRK), is one of the world's leading and most trusted commercial real estate advisory firms, offering a complete suite of services and products for both owners and occupiers. Together with London-based partner Knight Frank and independently-owned offices, Newmark's 16,000 professionals operate from approximately 430 offices on six continents. Newmark's investor/owner services and products include investment sales, agency leasing, property management, valuation and advisory, diligence, underwriting, government-sponsored enterprise lending, loan servicing, debt and structured finance and loan sales. Occupier services and products include tenant representation, real estate management technology systems, workplace and occupancy strategy, global corporate services consulting, project management, lease administration and facilities management. For further information, visit www.ngkf.com.
Discussion of Forward-Looking Statements about Newmark Group
Statements in this document regarding Newmark Group that are not historical facts are "forward-looking statements" that involve risks and uncertainties, which could cause actual results to differ from those contained in the forward-looking statements. Except as required by law, Newmark Group undertakes no obligation to update any forward-looking statements. For a discussion of additional risks and uncertainties, which could cause actual results to differ from those contained in the forward-looking statements, see Newmark Group's Securities and Exchange Commission filings, including, but not limited to, any updates to such risk factors contained in subsequent Forms 10-K, 10-Q, or Forms 8-K.