9:00 AM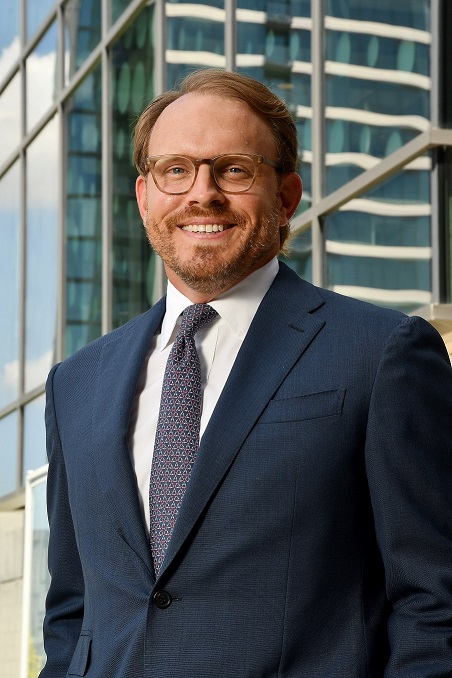 Newmark Group, Inc. (NASDAQ: NMRK) ("Newmark") is pleased to announce that Jimmy Hinton has joined the company as Executive Vice President, Head of Investor Strategies. With nearly 20 years of career experience, specializing in research and analytics, investment strategy and data science initiatives, he brings a unique perspective and expertise to Newmark's platform.
Working directly with the firm's executive team, Jimmy will coordinate the development of unique strategies for the benefit of Newmark's clients, shareholders and professionals. He will partner with the company's Research, Technology, Investor Relations and Finance teams to create superior data analytics that will support and further advance the work product delivered to the firm's clients and other stakeholders.
"Jimmy is a great addition to Newmark. He will complement our existing leadership team and accelerate our efforts to be the leader in Capital Markets across the U.S.," said Newmark's Chief Executive Officer Barry M. Gosin.
"Jimmy's robust experience will significantly enhance Newmark's unique brand as a strategic advisor to our clients. In addition, his previous research experience will assist Newmark in the delivery of actionable strategies and enhance the competitive differentiators that have made Newmark one of the 'Big 5' commercial real estate services firms" stated Chief Strategy Officer, Jeff Day.
"It's an incredibly attractive time to join Newmark, as the firm continues to grow its developed suite of services and business lines. Newmark is a company that is clearly dedicated to providing the highest quality services to the commercial real estate industry," said Hinton. "This role represents the confluence of my career experience–a deep understanding of transaction markets and the brokerage industry's interaction with institutional investors. I look forward to the opportunity to drive the company's message to external shareholders and clients."
Hinton joins Newmark from a privately held real estate services, investment management and development organization, where he was a Senior Managing Director of Investments and Analytics, developing leading-edge research and predictive analytics to guide and support real estate investment strategy. His prior role was a Managing Director at HFF, where, working with the Chief Financial Officer and Investor Relations team, he provided in-depth analysis of economic, property and capital market trends for a wide range of commercial property types.
About Newmark Group, Inc.
Newmark Group, Inc. ("Newmark Group") is a publicly traded company that, through subsidiaries, operates as a full-service commercial real estate services business with a complete suite of services and products for both owners and occupiers across the entire commercial real estate industry. Under the Newmark name, the investor/owner services and products of Newmark Group's subsidiaries include capital markets (comprised of investment sales and mortgage brokerage), agency leasing, property management, valuation and advisory, diligence and underwriting. Newmark Group's subsidiaries also offer government sponsored enterprise lending, loan servicing, debt and structured finance, and loan sales. Newmark Group's occupier services and products include tenant representation, global corporate services, real estate management technology systems, workplace and occupancy strategy, consulting, project management, lease administration and facilities management. Newmark Group enhances these services and products through innovative real estate technology solutions and data analytics designed to enable its clients to increase their efficiency and profits by optimizing their real estate portfolio.
Newmark Group has relationships with many of the world's largest commercial property owners, real estate developers and investors, as well as Fortune 500 and Forbes Global 2000 companies. Newmark Group's Class A common stock trades on the NASDAQ Global Select Market under the ticker symbol "NMRK". Newmark is a trademark/service mark and/or registered trademark/service mark of Newmark Group and/or its affiliates. Knight Frank is a service mark of Knight Frank (Nominees) Limited. Find out more about Newmark at, https://twitter.com/newmarkkf, https://www.linkedin.com/company/newmark-knight-frank/, and/or http://ir.ngkf.com/investors/investors-home/default.aspx.
Discussion of Forward-Looking Statements about Newmark
Statements in this document regarding Newmark that are not historical facts are "forward-looking statements" that involve risks and uncertainties, which could cause actual results to differ from those contained in the forward-looking statements. These include statements about the effects of the COVID-19 pandemic on the Company's business, results, financial position, liquidity and outlook, which may constitute forward-looking statements and are subject to the risk that the actual impact may differ, possibly materially, from what is currently expected. Except as required by law, Newmark undertakes no obligation to update any forward-looking statements. For a discussion of additional risks and uncertainties, which could cause actual results to differ from those contained in the forward-looking statements, see Newmark's Securities and Exchange Commission filings, including, but not limited to, the risk factors and Special Note on Forward-Looking Information set forth in these filings and any updates to such risk factors and Special Note on Forward-Looking Information contained in subsequent reports on Form 10-K, Form 10-Q or Form 8-K.