10:00 AM
Newmark today announced that it has been appointed as the exclusive office leasing agent for 3160 Fairview Park Drive in Falls Church, VA. Recently purchased by Washington Property Company and partner Bailard, the property is currently undergoing strategic renovations transforming it into an exceptional opportunity for a corporate headquarters location.
When the renovations are complete, the 118,000-square-foot building will have a new trophy-quality lobby, innovative fitness center, conference facility and tenant collaboration area with lounge seating. The improvements also include the complete replacement of all building systems, essentially creating a brand new building. The building, located in Northern Virginia's Fairview Park, offers 2.5 miles of jogging trails, verdant landscaping as well as a structured parking garage. The property also offers close proximity to the Dunn Loring-Merrifield Metro Station, the new retail in the Mosaic District, Tysons and I-495.
"Given its location and new improvements, we believe 3160 Fairview Park Drive is an ideal corporate headquarters opportunity in the highly sought after Fairview Park setting," said Newmark's Executive Managing Director Mike Pepper.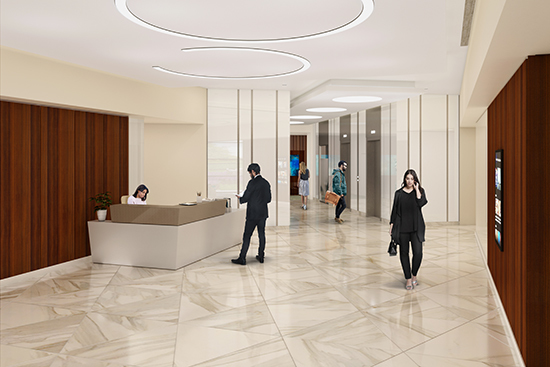 Northern Virginia, specifically Fairfax County, has consistently led the DC Metro area as well as the nation as one of the strongest performing counties in unemployment, economic output and demographic strength. Twenty-three of the top 50 government technology employers in the region are based in Fairfax, contributing to the market's viability and diversity. The building is located in one of the most promising and stable counties in Virginia, which is projected to grow more in 2017.
Fairview Park boasts an impressive tenant-base including General Dynamics, Northrop Grumman, Computer Sciences Corp., HITT Contracting, Booz Allen & Hamilton and many more. 3160 Fairview Park Drive is situated across from the Fairview Park Marriott.
Newmark's Executive Managing Directors Mike Pepper and John Henschel handle the leasing of the office space.
About Washington Property Company
Washington Property Company (www.washproperty.com) is a full-service commercial real estate company located in Bethesda, Maryland. Established by Charles K. Nulsen, III, WPC is involved in a full range of real estate investment services including acquisition, land use, development, property management, leasing, and construction management. WPC has developed more than eight million square feet of commercial space in the Washington, DC metropolitan area and currently has over 1.6 million residential square feet under development. WPC is actively pursuing office, multi-family, retail, and mixed-use development opportunities throughout the region. Through its management company, WPC Management, LLC, Washington Property Company manages over 1.8 million square feet of commercial space.
About Bailard
Bailard Inc. is an employee-owned investment advisory firm based in Foster City, CA. The company manages traditional and alternative investment strategies such as real estate for institutional and private clients. Since Bailard opened its doors in 1969 in the San Francisco Bay Area, the firm has sought innovative ways to build wealth, thoughtfully manage risk, and generate consistently solid returns for its investment clients. Bailard has remained employee-owned and, with over $4.1 billion in assets under management, offers public and private pension plans, foundations, endowments, Taft Hartley plans, and sovereign wealth funds as well as private individuals and family offices carefully-crafted proprietary investment strategies and products.

For more information about Bailard, Inc., please visit www.bailard.com.

About Newmark
Newmark ("Newmark"), operated by Newmark Group, Inc. ("Newmark"), is one of the world's leading commercial real estate advisory firms. Newmark has over 4,600 employees in over 120 offices. Together with London-based partner Knight Frank and independently-owned offices, Newmark's 15,000 professionals operate from more than 400 offices in established and emerging property markets on six continents. With roots dating back to 1929, Newmark's strong foundation makes it one of the most trusted names in commercial real estate. We offer a complete suite of services and products for both owners and occupiers across the entire commercial real estate industry.
Our investor/owner services and products include investment sales, agency leasing, property management, valuation and advisory, diligence, underwriting and, under trademarks and names like Berkeley Point and Newmark Capital Markets, government sponsored enterprise lending, loan servicing, debt and structured finance and loan sales. Our occupier services and products include tenant representation, real estate management technology systems, workplace and occupancy strategy, global corporate services consulting, project management, lease administration and facilities management. We enhance these services and products through innovative real estate technology solutions and data analytics designed to enable our clients to increase their efficiency and profits by optimizing their real estate portfolio. We have relationships with many of the world's largest commercial property owners, real estate developers and investors, as well as Fortune 500 and Forbes Global 2000 companies. For further information, visit www.ngkf.com.
Newmark, which is listed on the NASDAQ Global Select Market under the symbol "NMRK", is a publicly traded subsidiary of BGC Partners, Inc. ("BGC"), a leading global brokerage company servicing the financial and real estate markets. BGC's common stock trades on the NASDAQ Global Select Market under the ticker symbol "BGCP". BGC also has an outstanding bond issuance of Senior Notes due June 15, 2042, which trade on the New York Stock Exchange under the symbol "BGCA".
Discussion of Forward-Looking Statements about Newmark
Statements in this document regarding Newmark that are not historical facts are "forward-looking statements" that involve risks and uncertainties, which could cause actual results to differ from those contained in the forward-looking statements. Except as required by law, Newmark undertakes no obligation to update any forward-looking statements. For a discussion of additional risks and uncertainties, which could cause actual results to differ from those contained in the forward-looking statements, see Newmark's and BGC's Securities and Exchange Commission filings, including, but not limited to, any updates to such risk factors contained in subsequent Forms 10-K, 10-Q, or Forms 8-K.