10:00 AM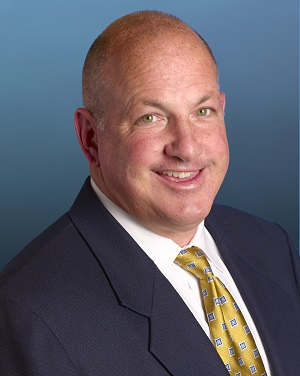 Newmark Knight Frank ("NKF") announces that one of the industry's premier leasing brokers John Ollen has joined the firm as Executive Managing Director and will be based in the Century City, CA office.
Over the course of his 30-year career, John has worked on some of the highest profile assets in the Greater Los Angeles area. John brings tremendous knowledge of the Greater Los Angeles market and has experience in leasing; acquisitions; design and ground-up developments; adaptive re-use projects; dispositions; and construction oversight of landlord build-to-suits, speculative suites and general office space projects.
"As a recognized leader and expert within the industry, we are thrilled to welcome John to the firm to further enhance our agency leasing practice throughout Los Angeles," said Phil Brodkin, Executive Vice President and Market Leader of NKF's Los Angeles offices. "John brings unmatched breadth and depth of experience, and his addition will broaden the services and capabilities we are able to provide to our clients."
Ollen added, "The Newmark team has really created something special. I am excited to join Newmark at a time where its platform will help bolster my abilities to service my clients as we navigate the future of office space."
"We are all thrilled to add John to our Los Angeles region agency team," noted Kevin Shannon, Co-Head of U.S. Capital Markets. "His collaborative nature and stellar reputation is a perfect fit for our culture. John's unparalleled experience through his involvement in many of Los Angeles County's landmark leases will prove exceptionally valuable to our institutional client base."
John comes to NKF from Tishman Speyer where he was part of the senior management team and oversaw all leasing activity in Southern California. During his tenure in the business, John has completed nearly 19 million square feet of transactions with multiple deals sizing over 150,000 square feet including the City of Los Angeles, Citibank, Morgan Stanley, International Lease Finance Corporation, MySpace, Yahoo!, Belkin, Facebook, UTA, Netflix, MGM, HBO, O'Melveny & Myers, Johnson & Higgins, Sefarth Shaw, Cox Castle, Proskauer, Army Corp of Engineers, USC/ICT, Boeing and Baxter Healthcare.
Prior to Tishman Speyer, John spearheaded the agency leasing group for Insignia/ESG, as well as oversaw the property management group. John has also served on the Los Angeles Commercial Realty Association Board of Directors for four of the last six years, two of which he served as Vice Chairman.
About Newmark Knight Frank
Newmark Knight Frank ("NKF"), operated by Newmark Group, Inc. ("Newmark Group") (NASDAQ: NMRK), is one of the world's leading and most trusted commercial real estate advisory firms, offering a complete suite of services and products for both owners and occupiers. Together with London-based partner Knight Frank and independently-owned offices, NKF's 18,800 professionals operate from approximately 500 offices on six continents. NKF's investor/owner services and products include investment sales, agency leasing, property management, valuation and advisory, diligence, underwriting, government-sponsored enterprise lending, loan servicing, debt and structured finance and loan sales. Occupier services and products include tenant representation, real estate management technology systems, workplace and occupancy strategy, global corporate services consulting, project management, lease administration and facilities management. For further information, visit www.ngkf.com.
Discussion of Forward-Looking Statements about Newmark
Statements in this document regarding Newmark that are not historical facts are "forward-looking statements" that involve risks and uncertainties, which could cause actual results to differ from those contained in the forward-looking statements. Except as required by law, Newmark undertakes no obligation to update any forward-looking statements. For a discussion of additional risks and uncertainties, which could cause actual results to differ from those contained in the forward-looking statements, see Newmark's Securities and Exchange Commission filings, including, but not limited to, the risk factors and Special Note on Forward-Looking Information set forth in these filings and any updates to such risk factors and Special Note on Forward-Looking Information contained in subsequent reports on Form 10-K, Form 10-Q or Form 8-K.