2:00 PM
ARA, A Newmark Company (ARA Newmark) announces the $100.5 million sale of The Huron, a newly delivered, Class A+, 296-unit asset located in downtown Denver, CO, just blocks from Coors Field in the Union Station North neighborhood.
Vice Chairmen Terrance Hunt, Shane Ozment, Jeff Hawks and Doug Andrews and Executive Managing Director Chris Cowan represented Columbus, OH-based developer Edwards Companies, who purchased the land several years earlier in a transaction brokered by the ARA Newmark land team. Denver-based Griffis Residential, a multifamily real estate investment company that owns and manages nearly 8,000 apartment homes, bought The Huron for $339,527 per unit.
"This was a full-circle deal for ARA Newmark - in 2012, Chris Cowan and Steve O'Dell sold the site to the developer, and once the project was constructed, our institutional brokerage team marketed the property and identified the best buyer," said Ozment.
Ozment noted that tenants of The Huron can walk out the property's front door to bars, restaurants and Coors Field, home of Colorado Rockies baseball. The property is just blocks from Union Station and a recently announced mixed-use development, which will include a Rockies Hall of Fame, outdoor public gathering area, hotel and office space. The project expects to break ground in 2018, transforming a nearby parking lot into a multi-storied commerce and entertainment destination. Union Station is downtown Denver's transportation hub, connecting the entire metro area and Denver International Airport via commuter and light rail. The area's 2.5 million square feet of under-construction office space offers an ideal working environment for commuters.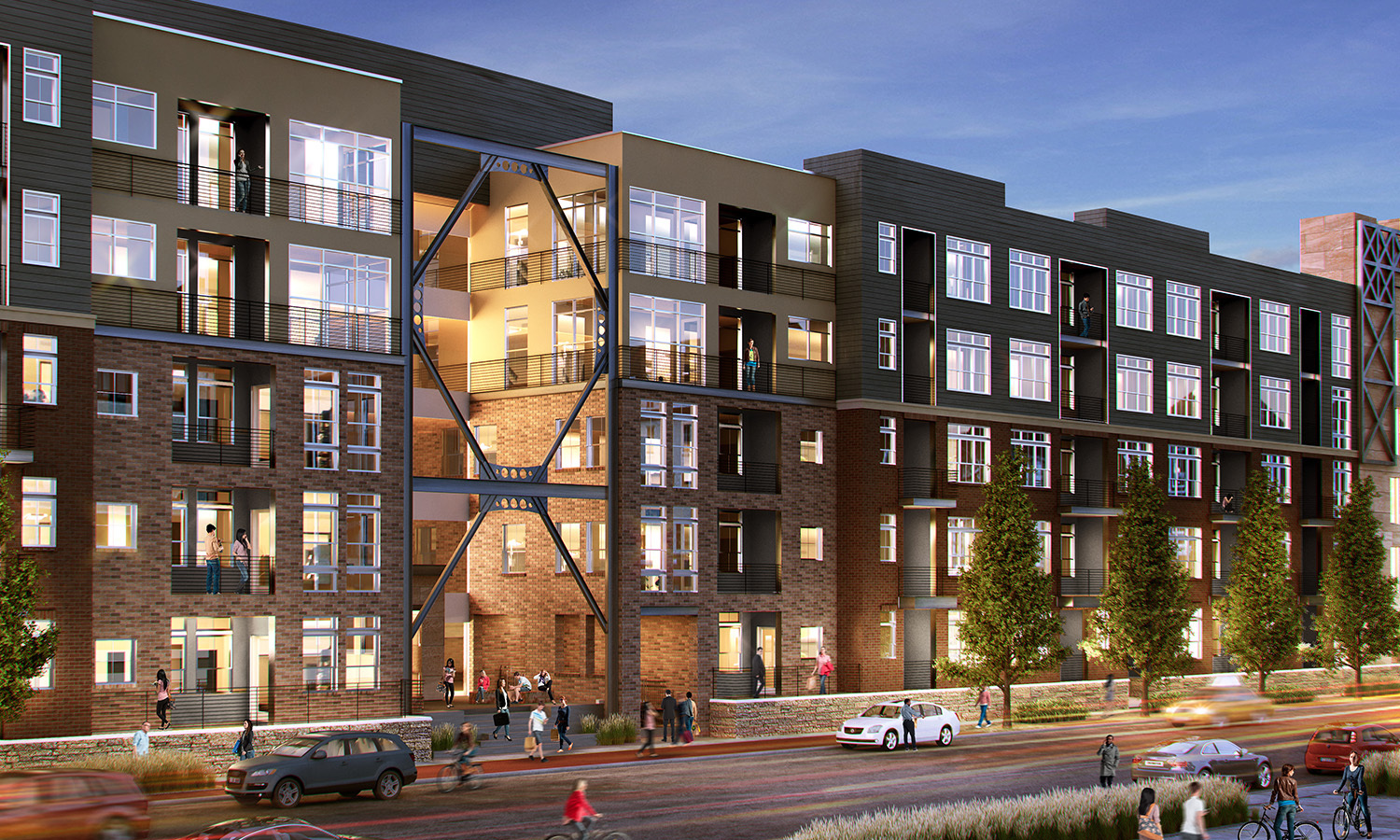 According to Hunt, "The Huron's design embraces elements of the historic warehouse district, with exposed brick and heavy iron entryways, yet also features luxury amenities that include: ten-foot ceilings, under-mount sinks and granite and stainless steel details."
Built in 2016, property amenities include a lounge with a tech bar, three theater screening rooms, a state-of-the-art fitness center, controlled access and concierge service.
About ARA, A Newmark Company
ARA, A Newmark Company (ARA Newmark) is the leading investment advisory firm in the multihousing industry. From marketing the sale of single assets and portfolios to sourcing acquisition and development equity and financing (through the Newmark Capital Markets brand), ARA Newmark provides 360-degree solutions for clients. In addition to market-rate and mixed-use properties, we offer specialized services in land, student, seniors, manufactured and affordable housing.
With the industry's deepest bench of multihousing advisors, ARA Newmark provides the insight and experience to ensure world-class execution. Our advisors average 20 years' experience and are the most skillful negotiators in the industry. They are experts in 300+ markets and provide asset-specific customization that yields highly effective transaction strategies. By leveraging our proprietary database that identifies 200 percent more investor interest, each advisor has ready access to unique market intelligence to drive demand.
Backed by the global resources of Newmark, ARA Newmark matches each client's assets to a robust group of investors - from private and institutional owners to global entities - and accesses nearly every commercial real estate class for options to diversify and profit.
The firm's combination of asset sales, debt and equity services (through Newmark Capital Markets) and specialty practice groups yields more than $19 billion in transaction volume annually. For more on ARA Newmark's multihousing-exclusive services, visit www.aranewmark.com.
About Newmark
Newmark is one of the world's leading commercial real estate advisory firms. Together with London-based partner Knight Frank and independently-owned offices, Newmark's 15,000 professionals operate from more than 400 offices in established and emerging property markets on six continents.
With roots dating back to 1929, Newmark's strong foundation makes it one of the most trusted names in commercial real estate. Newmark's full-service platform comprises BGC's real estate services segment, offering commercial real estate tenants, landlords, investors and developers a wide range of services including leasing, corporate advisory services, consulting, project and development management, property and corporate facilities management services, valuation and advisory services, and capital markets services provided through its Newmark Capital Markets brand. For further information, visit www.ngkf.com.
Newmark is a part of BGC Partners, Inc., a leading global brokerage company servicing the financial and real estate markets. BGC's common stock trades on the NASDAQ Global Select Market under the ticker symbol (NASDAQ: BGCP). BGC also has an outstanding bond issuance of Senior Notes due June 15, 2042, which trade on the New York Stock Exchange under the symbol (NYSE: BGCA). BGC Partners is led by Chairman and Chief Executive Officer Howard W. Lutnick. For more information, please visit www.bgcpartners.com.

About Edwards Companies
Edwards Companies is widely recognized for its creative approach to addressing the myriad challenges in real estate development and construction. Privately held and family owned since 1959, Edwards Companies serves as a holding company for a collection of operating entities engaged in the various facets of real estate. Over the years, the Company has built in excess of 35,000 residential housing units.