8:30 AM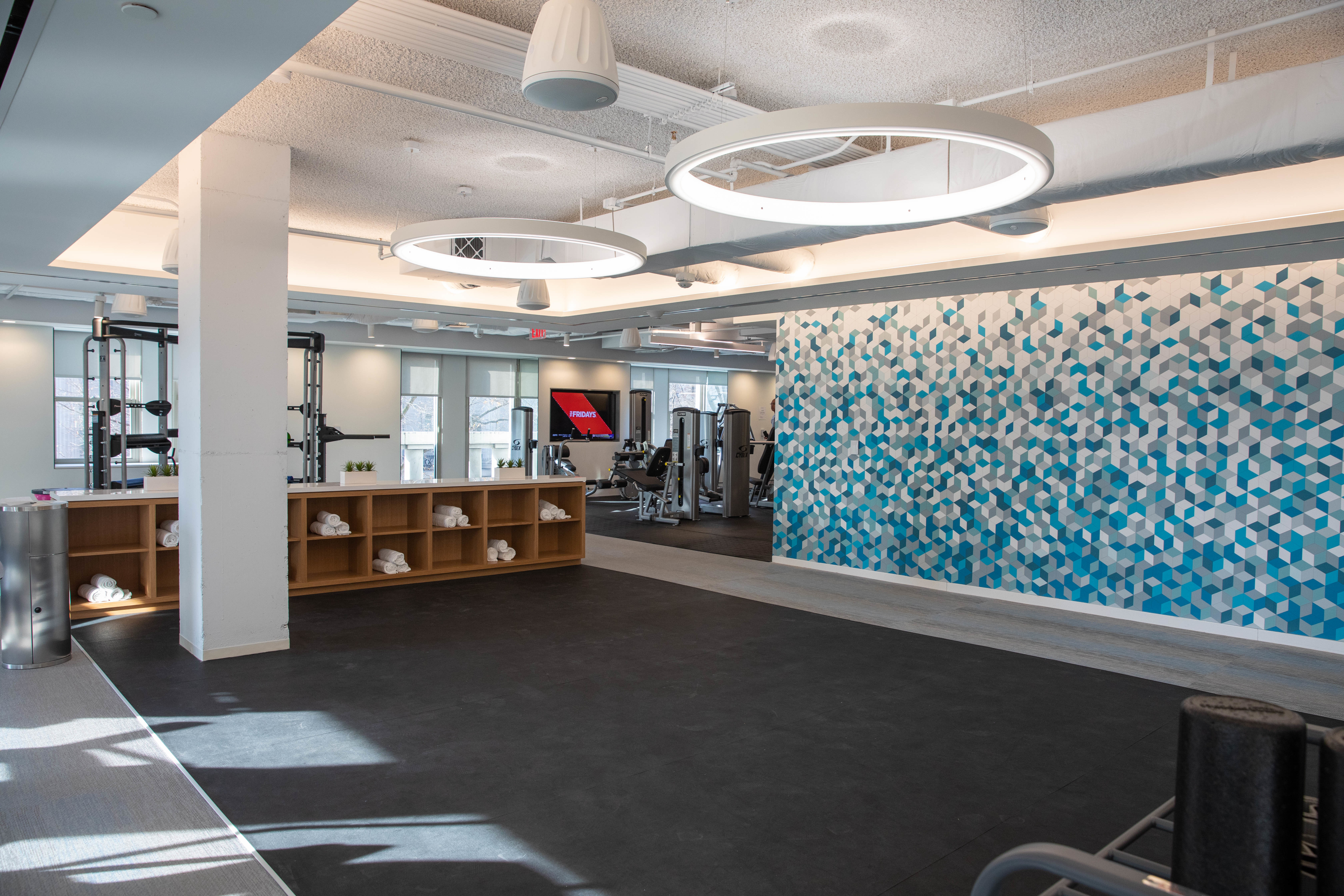 Newmark announced today that WeWork, Alvarez & Marsal, SocialCode and The Levinson Group have leased a combined 151,626 square feet at Met Square located at 655 15th Street, NW, in Washington, DC.
Adjacent to the White House, Met Square was recapitalized by a Boston Properties-led (NYSE: BXP) ownership group, in October 2016. Since then ownership embarked on an extensive renovation plan to transform Met Square into an energized workplace and innovative community. The building opened a 6,100-square-foot fitness center which is providing tenants with classes offered among the center's cardio, weight, yoga and spinning studios. The fitness center shares its spa-quality locker rooms and showers with a new bike storage facility complete with lockers, benches, bike pumps and dedicated shower facilities.
To-date, 50,000 square feet of spec suites have been delivered to market. The fifth floor of this space is designed to serve as "The Social Suites," offering tenants custom-selected suites within a community-oriented floorplan. The Social Suites share an amenity area including two conference rooms, a communal lounge and dining area, as well as a high-end kitchen.
"While committing to a 50,000-square foot spec suite program was ambitious, we discussed the demand for such space with the ownership team and it's proven to be a success in two months' time," said Newmark Chairman, Asset Services, Brendan Owen.
The next phase of renovations includes a 7,000-square-foot amenity zone with a conference center and collaboration space which is expected to deliver in the first quarter of 2020. A WiFi-equipped, tenant-only rooftop terrace with spectacular views overlooking the National Mall and monuments delivers this summer and will be available for private tenant events along with the upgraded lobby and atrium.
The recently completed leases exhibit how creative and professional services firms alike desire a workplace community that offers their employees a refreshed perspective. In the case of The Levinson Group, Met Square has also proven to be a space that fosters growth. The firm chose to stay in the building, relocating from a much smaller space to 2,469 square feet on the fifth floor, occupying one of the Social Suites.
Newmark's Owen, Executive Managing Director Edwin M. Clark III, Director Suzanne White and Associate Morgan Monroe represented ownership in the transactions. SocialCode was represented by JLL, Ganon Rich of West, Lane & Schlager represented The Levinson Group and JLL's Ken Patton represented Alvarez & Marsal.
"WeWork positions itself to provide enhanced workplace experiences in unique environments, and there isn't anywhere more aligned with that objective than Met Square," said Monroe.
"With the expansion of WeWork and the additions of Alvarez & Marsal, SocialCode and The Levinson Group, we're proud to see the tenant roster continue to grow. By providing various occupancy opportunities for an assortment of user types and needs combined with extensive renovations, the owners are cultivating a truly unique tenant experience," said Clark.
The 670,000-square-foot building holds both LEED-EB and Wired Gold certifications and has 285,000 square feet available for lease, including 33,047 square feet of pre-built, trophy-quality suites ranging in size and price point. At Met Square, luxury meets accessibility to create an unparalleled workplace experience.
About Boston Properties
Boston Properties is one of the largest developers and owners of Class A office properties in the United States, concentrated in five markets-Boston, Los Angeles, New York, San Francisco and Washington, DC. The Company is a fully integrated real estate company, organized as a real estate investment trust, that develops, redevelops, acquires, manages, operates and owns a diverse portfolio of primarily Class A office space totaling 50.2 million square feet and consisting of 166 office properties (including nine properties under construction), six residential properties (including three properties under construction), five retail properties and one hotel.
For more information about Boston Properties, please visit the Company's website at www.bostonproperties.com.
About WeWork
WeWork provides its members around the world with space, community, and services through both physical and virtual offerings. From startups and freelancers to small businesses and Fortune 500 companies, our community is united by a desire for our members to create meaningful work and lead meaningful lives - to be a part of something greater than ourselves. Co-founded by Adam Neumann and Miguel McKelvey in New York City in 2010, WeWork is a privately held company with over 5,000 employees. Follow us @WeWork on Twitter, Instagram, and Facebook or visit www.wework.com to learn more.
About Alvarez & Marsal
Companies, investors and government entities around the world turn to Alvarez & Marsal (A&M) when conventional approaches are not enough to make change and achieve results. Privately held since its founding in 1983, A&M is a leading global professional services firm that provides advisory, business performance improvement and turnaround management services.
With over 3,000 people across four continents, we deliver tangible results for corporates, boards, private equity firms, law firms and government agencies facing complex challenges. Our senior leaders, and their teams, help organizations transform operations, catapult growth and accelerate results through decisive action. Comprised of experienced operators, world-class consultants, former regulators and industry authorities, A&M leverages its restructuring heritage to turn change into a strategic business asset, manage risk and unlock value at every stage of growth.
When action matters, find us at www.alvarezandmarsal.com. Follow A&M on LinkedIn, Twitter and Facebook.
About SocialCode
SocialCode is an audience-first marketing partner built to drive results through media activation. We combine audience data, insights, content creation and measurement to drive unmatched ROI from digital campaigns. SocialCode's solutions power the world's most innovative brands by connecting marketers with customers to find their most valuable prospects on the most important digital media platforms - Amazon, Facebook, Instagram, Linkedin, Twitter, Pinterest, Snapchat and YouTube.
To learn more, please visit www.SocialCode.com.
About The Levinson Group
The Levinson Group provides strategic advice, crisis and issues management, litigation support, media relations, and reputation management for CEOs, corporations, non-profits, and other organizations. TLG has worked with law firms across the country on some of their most critical matters. The firm is recognized for a deep knowledge of media, including global landscape, relationships, and competitive positioning, which has contributed to a track record of leveraging brand strengths in dynamic and complex environments.
About Newmark
Newmark ("Newmark"), operated by Newmark Group, Inc. ("Newmark Group") (NASDAQ: NMRK), is one of the world's leading and most trusted commercial real estate advisory firms, offering a complete suite of services and products for both owners and occupiers. Together with London-based partner Knight Frank and independently-owned offices, Newmark's 16,000 professionals operate from approximately 430 offices on six continents. Newmark's investor/owner services and products include investment sales, agency leasing, property management, valuation and advisory, diligence, underwriting, government-sponsored enterprise lending, loan servicing, debt and structured finance and loan sales. Occupier services and products include tenant representation, real estate management technology systems, workplace and occupancy strategy, global corporate services consulting, project management, lease administration and facilities management. For further information, visit www.ngkf.com.
Discussion of Forward-Looking Statements about Newmark Group
Statements in this document regarding Newmark Group that are not historical facts are "forward-looking statements" that involve risks and uncertainties, which could cause actual results to differ from those contained in the forward-looking statements. Except as required by law, Newmark Group undertakes no obligation to update any forward-looking statements. For a discussion of additional risks and uncertainties, which could cause actual results to differ from those contained in the forward-looking statements, see Newmark Group's Securities and Exchange Commission filings, including, but not limited to, any updates to such risk factors contained in subsequent Forms 10-K, 10-Q, or Forms 8-K.