The National Trend: Growth of Coworking Correlates with Slowing Volume of Smaller Direct Office Leases
Over the past five years, the coworking and flexible office space sector has expanded rapidly across most major U.S. metro areas, more than doubling its share of office inventory in major cities like San Francisco, New York, Boston and Chicago. Coworking inventory in the 12 largest U.S. employment markets more than doubled from 20.0 million square feet in 2016 to 48.4 million square feet in 2019. This growth was largely driven by office tenants' interest in the flexibility, design, and amenities offered by the coworking and flexible office space sector. The rapid growth of this sector has occurred as it has diversified its offerings.
The flexible office space segment has emerged as a model distinct from coworking; it aims to comprehensively manage a company's office needs, often including finding and customizing space for a single company and then operating and managing that space. While some major corporations have gravitated to the flexible office space model and assigned their office needs to providers such as Knotel, the target market for traditional coworking providers has been the small-to-medium size tenants who take desks in a shared office environment.
What this has meant for the traditional direct office market is that the volume of transactions from tenants smaller than 10,000 square feet has decreased as coworking has grown more popular. Tenants now have the option to utilize coworking and flexible office space providers rather than transacting directly with an asset owner. As illustrated in the adjacent chart, the average number of transactions smaller than 10,000 square feet in the 12 largest U.S. metro areas declined from 1,498 in 2016 to 908 in 2019. While we cannot prove a direct causal relationship between the slowing of smaller direct office deal volume and the rise of coworking, the correlation is striking.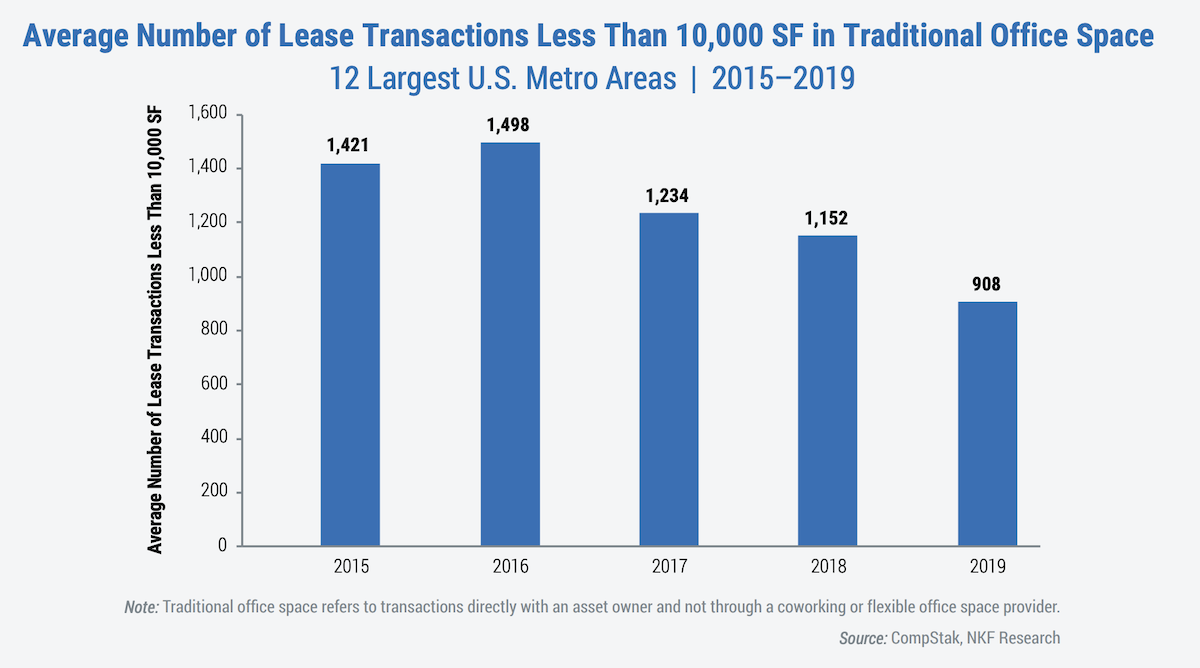 Featured Market: District of Columbia
The trend of declining small deal volume is especially prevalent in the city centers, where coworking and flexible office space is most concentrated. For example, in the District of Columbia (Washington, DC), coworking and flexible office space grew from 0.8% of office inventory in 2016 to 1.6% of inventory in 2019. Over this same period, the number of transactions smaller than 10,000 square feet declined from 159 in 2016 to 136 in 2019. This decline has coincided with a period of tepid demand in the District, with growth from the District's mainstay industries — law firms and the federal government — muted over the past several years as a result of space efficiency initiatives. More recently, coworking providers had been replacing some of that demand as they grew rapidly in the District. In 2019, 39% of the District's net office absorption came from coworking and flexible office space providers, bolstered by the opening of major locations for WeWork, MakeOffices, Convene, Spaces and others. Some of this growth has been driven by coworking operators' ability to attract smaller tenants, likely explaining the decline of smaller leases transacted directly with asset owners.
What Are the Implications for Our Clients?
While the decline in smaller deal volume is undoubtedly a challenge for traditional asset owners, it may have reached an inflection point. The explosive growth of the coworking sector cooled significantly with the news of WeWork's failed IPO in the fall of 2019. With WeWork being the largest provider by a significant margin, its turmoil had a dampening effect on growth in the sector, including for other providers. One possible repercussion of this slowing activity is a rejuvenation of the direct-to-owner small lease market. Instead of WeWork and other coworking providers capturing so many of these deals, perhaps asset owners will regain traction in this space, seizing new opportunities. In fact, another trend that has resulted from the growth of the coworking sector is asset owners creating their own flexible space and amenities programs in order to compete in this slice of the market. With slowing growth in the coworking sector overall, and an increase in asset owners offering their own coworking-style programs, those owners may be ready to recapture a larger share of the smaller tenant volume in the coming years.