The National Trend: COVID-19 May Be Spurring Greater Interest in Suburban Space, but Data Does Not Reflect a Large Shift Away from Urban Cores
During the site selection process, companies seeking to establish a new location consider a variety of factors including building amenities, space design options, proximity to the firm's workforce and lease economics. One of the most important considerations involves the different strengths and weaknesses of a downtown location versus a suburban one. Downtown locations have tended to feature more active environments and the potential to attract employees from across a metro area, while a suburban locale can reduce commute times and costs for those employees who live in that part of the market.
During the COVID-19 pandemic, much discussion has emerged about a potential increase in popularity of suburban offices and how that might lead to an urban exodus; chatter has been especially concentrated on markets for which mass transit is essential, such as New York City. However, there is little evidence of such an exodus in the data thus far; in fact, Facebook's recent lease in Manhattan and Amazon's recent and planned expansions of its office footprint in several downtown markets suggest that while suburban submarkets have increased appeal during the pandemic, tenants are still evaluating their needs—or are reluctant to leave downtown areas because of their many strengths, including their central location and their positive impact on corporate culture.
Notably, in the second quarter of 2020, 39.8% of the national office market's negative absorption (loss of occupancy) was in its Central Business Districts (CBDs), while 60.2% was in suburban and exurban submarkets (see adjacent exhibit). As a share of inventory, negative absorption in the CBDs equaled 0.28% of inventory, while negative absorption in the suburbs equaled 0.20% of inventory. In summary, while one full calendar quarter's worth of data since the pandemic began is still a small sample, the market has not seen a rush out of urban areas—the challenges facing the office market have been fairly balanced geographically.
There is little data at this time reflecting a consistent migration to the suburbs or the creation of a "hub-and-spoke" (satellite office) model in which an occupier leases a central, urban office as well as multiple, smaller suburban offices. Several factors likely have slowed any significant wave in favor of the hub-and-spoke or suburban models:
Location choices often are made after a multi-year evaluation process, so not enough time has elapsed since the start of the pandemic for a full re-evaluation of space needs
Occupying multiple locations within a metro area has cost implications that are challenging to accept when revenues are down for so many firms
Some executives prefer a wait-and-see approach before committing to an occupancy plan, given that a vaccine for COVID-19 could shift their plans once again
Decision-makers are assessing how much space they may need if a portion of their workforce continues to operate remotely on at least a part-time basis
Corporate leaders are concerned about their workforce being spread out, away from a single urban node, because of the potential long-term damage to talent recruiting/retention and corporate culture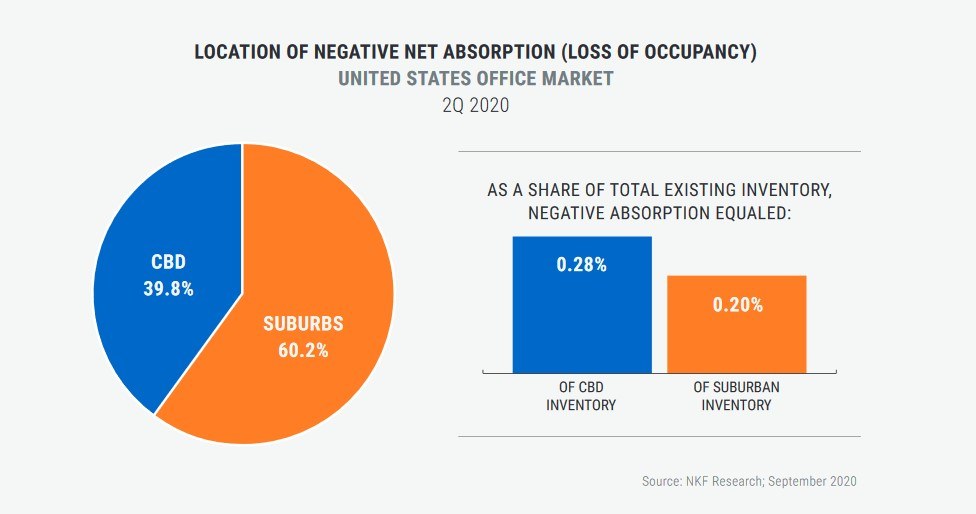 Longer term, public transportation may be the key component to how quickly a market recovers. A recent report by Newmark Research in collaboration with Newmark Property Management showed that managers of properties in car-dependent submarkets are anticipating a faster recovery to pre-COVID occupancy rates. Offices in areas with a greater dependency on mass transit—whether rail, bus or a combination thereof—are anticipating a slower recovery, as commuters fear higher virus transmission potential while in transit. In fact, only 12% of managers of car-dependent office properties were moderately or extremely concerned about the possibility of increased teleworking among their occupiers, compared with 30% among managers of extremely-walkable (primarily urban/transit-adjacent) properties.
Featured Market: Atlanta
Atlanta's emergence as a hub for technology companies drove renewed interest in Midtown and its sturdy office market fundamentals over the past three years. Companies opening new locations in Atlanta were drawn to the heart of the city to be near the Georgia Institute of Technology (Georgia Tech) and the amenities of the urban environment. The ability to use MARTA rail service to easily get to and from Hartsfield-Jackson International Airport was also appealing. In many cases, technology tenants with locations elsewhere in the region relocated to Midtown to be closer to the new tech "epicenter" as their leases expired.
Since the Great Financial Crisis, Atlanta's office market experienced tremendous growth, with more than 113.2 million square feet absorbed between 2012 and 2019. Tenant demand shifted during this period from the traditional spots along the GA-400 Corridor (Buckhead, Central Perimeter and North Fulton) to Midtown as a focus on the urban environment and its amenities coincided with the growth of the region's technology industry.
Midtown saw a major uptick in activity over the past four years, as 1.9 million square feet was absorbed between 2016 and 2019. The rest of the market had 1.3 million square feet absorbed. This was a reversal of trends in the prior four years in which only 1.5 million square feet was absorbed in Midtown and 6.6 million was absorbed in all of the region's other submarkets. Confidence has persisted in the region's suburbs as well, though, as evidenced by recent construction. Since 2012, 7.5 million square feet was built throughout the region, with only 34.5% in Midtown. Notable tenants choosing suburban areas for their new offices included Mercedes-Benz USA, thyssenkrupp, and State Farm.
The first half of 2020 saw the completion of the second tower of State Farm's East Coast hub, Inspire Brands' relocation and expansion, and a new location for WeWork in Central Perimeter, representing more than 800,000 square feet of net absorption for this suburban market. Meanwhile, in the urban core, Anthem moved into its new technology center tower, expanding by 200,000 square feet; BlackRock opened its new 131,000-square-foot Atlanta office; and WeWork opened a new 46,000-square-foot office. The movement across the region in the first half of 2020 follows the recent trends outlined above—that the Atlanta region remains attractive to occupiers, but individual corporate needs dictate the final location preference of CBD or suburbs.
Implications for Our Clients
Data to support a major shift in tenant office demand away from CBDs does not yet exist at the national level, although denser metro areas that depend heavily on mass transit are at greater risk for a slower return to the office and hence a slower recovery of market activity. For this reason, the recent decisions by large occupiers such as JPMorgan and Goldman Sachs to begin returning employees to their Manhattan desks are important catalysts for the broader office market, even if the reboarding process takes time.
The strength of metro areas' local economic drivers will continue to shape site selection decisions within each market; while success in containing the pandemic is the most important factor in growing the national economy, metro economies that are overweighted in sectors that continue to expand will maintain a relative advantage and may see the fastest office market rebound. In particular, office submarkets that have strong tenancy among tech, biotech/medical, and government tenants—which are among the market's most active sectors—are likely to attract demand whether they are located in the CBD or suburbs.
Sources: Bisnow, GlobeSt.com, Newmark Research