The National Trend: As Demand for Sites in Urban Settings Increases, Well-Located Industrial Makes Way for Mixed-Use Developments
The rise of urbanism—with city centers acting as magnets for new residents and businesses—has been a key theme of the current commercial real estate cycle. Residents and workers are demanding easy access to amenities, and developers have been happy to address their needs. The high volume of apartment properties built in these downtown settings has driven the boom in overall development activity over the past five years. The result? The high demand for sites in the urban core has driven prices up, forcing developers to look further from the city center for available properties. Industrial buildings, especially those that are functionally obsolete and vacant, create attractive options for new development.
Increasing urbanism has affected industrial assets in two primary ways. The first is the disappearance of older, well-located industrial properties that have been redeveloped for other purposes—often in a mixed-use setting. Sites near universities and transit stations are targeted often, along with locations near sports arenas and stadiums. (Check out the September 2018 issue of Real Insight for more on this topic.) The second is the increasing need for warehouse/distribution space to service last-mile logistics needs closer to a city's population. This topic was discussed in the September 2019 issue of Real Insight.
Redevelopment of industrial assets near city centers has led to significant increases in property values. More demand for the "best located" sites for new office or residential towers has led to areas previously dominated by urban industrial product. Once home to smaller warehouse/distribution centers with tenants in the home improvement, manufacturing and logistics industries, these sites are typically in pioneering parts of the city with lower pricing than the core.
Yet, the characteristics that drove development in the core are replicated in these neighboring areas, providing a natural segue to additional growth. Since these submarkets border established neighborhoods, they benefit from the natural progression for development to move to the next block. Many long-term owners are receiving purchase offers for their industrial properties, in some cases unsolicited, that far exceed expectations and the original property purchase price. The vision is then transformed into reality with a mixed-use development bringing new residents, shoppers and workers to the area.
Featured Market: Atlanta
The resurgence of the City of Atlanta's Midtown and Downtown has spread into previously industrial areas, especially on the west side of I-75/I-85 (commonly known as the Connector). The resulting property values and pricing have grown exponentially. More than 12.1 million square feet of industrial space has been demolished in the City of Atlanta since 2007 (see the adjacent graph). In the past five years alone, 2.1 million square feet, or 17% of that total, was purchased by investors for more than $162 million and then demolished. (The balance of the 6.8 million square feet demolished in the past five years was redeveloped without an intervening sale of the property.) The majority of these sites are west of the Connector—adjacent to Georgia Tech—and were converted to multifamily residential.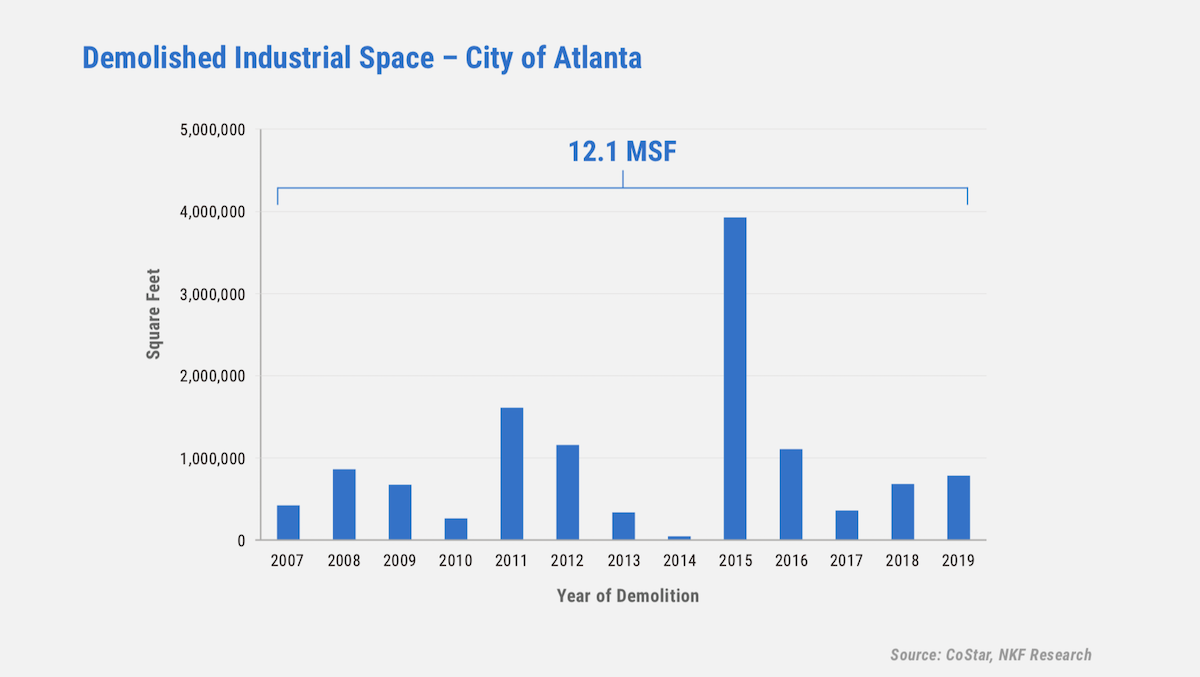 Adaptive reuse of former industrial sites into mixed-use projects featuring loft office space has taken shape on the Howell Mill Road and Northside Drive corridors of West Midtown/I-75. This has led to the creation of projects such as The Works, Ellsworth Lofts, Armour Yards, and Stockyards Atlanta. Additional projects are being planned along the Atlanta Beltline. Since the projects are a catalyst for redevelopment and planned to eventually ring the core of Downtown Atlanta, demand for properties along the route has risen as investors script new mixed-use developments.
Development on the western edge of Georgia Tech has grown exponentially over the past five years, much of it stimulated by companies that want to be near the university and the availability of land to redevelop in the heart of Midtown. Currently, there are nine properties under construction between North Avenue and 14th Street along Howell Mill Road, Northside Drive and Marietta Street, two-thirds of which are multifamily. These mid- and high-rise towers are changing the skyline of the neighborhood once home to only one-story industrial buildings. The new retail projects, including some of the city's top-rated restaurants, provide an additional attraction for the new residents and visitors in this corridor.
What Are the Implications for Our Clients?
Adaptive reuse of industrial properties in well-located urban environments into office or residential space has become very popular, driving industrial property pricing higher for those properties adjacent or close to downtown. Investors will need to open dialogues with municipalities to understand the potential for rezoning, as well as research any potential environmental impacts and remediation necessary on these sites based on their prior uses. Not every site is primed for construction today, but many may become valuable long-term adaptive reuse opportunities.