July 13, 2021 3:00 PM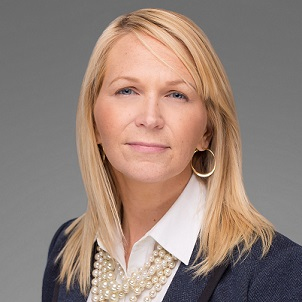 Newmark announces the promotion of Kady Hillman, a 20-year professional in the construction and commercial real estate industry, to Senior Managing Director of the Project Management group. Hillman, formerly a Director, will lead the Mid-Atlantic Region platform to provide integrated project management, strategic planning and construction management services.
"Kady has built great relationships and a solid reputation across the owner, occupier, contractor and architect communities in this region. Her work ethic, work product and overall commitment to our client's success are second to none. We are thrilled to have her leading our Project Management platform here in the Mid-Atlantic Region," said Ryan Miller, Newmark's Executive Vice President and Market Leader for the Mid-Atlantic Region.
Ms. Hillman has planned and executed projects for clients ranging from multinational corporations to not-for-profit organizations. As a dedicated manager, she strives to ensure each project is delivered with outstanding quality and a competitive cost structure while still conserving the project timeline. In addition, Hillman truly believes in a team structure and commits to incorporating the client in the design, planning, and building process to uphold total transparency.
"Kady has over 20 years of experience in the field and we are excited to have her lead our Mid-Atlantic Region Project Management team," commented Tom Hundelt, Executive Managing Director, Program and Project Management at Newmark.
Ms. Hillman is dedicated to working with the firm's brokers to collaboratively meet clients' needs when it comes to occupying their new space. This cross-collaboration spans everything from budget management, schedule oversight, risk mitigation and constructability review. Through collaboration and open communication with the tenant, broker, architect and contractor, she oversees each deliverable with a sense of urgency and dedication with overarching client satisfaction being the most critical driver of each project.
About Newmark
Newmark Group, Inc. (Nasdaq: NMRK), together with its subsidiaries ("Newmark"), is a world leader in commercial real estate, seamlessly powering every phase of the property life cycle. Our comprehensive suite of services and products is uniquely tailored to each client, from owners to occupiers, investors to founders, growing startups to leading companies. In 2020, Newmark generated revenues in excess of $1.9 billion. Newmark, together with London-based partner Knight Frank and independently owned licensees, operates globally from approximately 490 offices with 19,300 professionals. To learn more, visit nmrk.com or follow @newmark.

Discussion of Forward-Looking Statements about Newmark
Statements in this document regarding Newmark that are not historical facts are "forward-looking statements" that involve risks and uncertainties, which could cause actual results to differ from those contained in the forward-looking statements. These include statements about the effects of the COVID-19 pandemic on the Company's business, results, financial position, liquidity and outlook, which may constitute forward-looking statements and are subject to the risk that the actual impact may differ, possibly materially, from what is currently expected. Except as required by law, Newmark undertakes no obligation to update any forward-looking statements. For a discussion of additional risks and uncertainties, which could cause actual results to differ from those contained in the forward-looking statements, see Newmark's Securities and Exchange Commission filings, including, but not limited to, the risk factors and Special Note on Forward-Looking Information set forth in these filings and any updates to such risk factors and Special Note on Forward-Looking Information contained in subsequent reports on Form 10-K, Form 10-Q or Form 8-K.