October 24, 2022 9:00 AM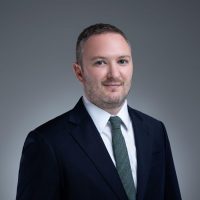 Newmark Group, Inc., announces that Andrew Armstrong has joined the firm as Director in Hong Kong, focusing on the industrial and logistics space. In his role, Armstrong advises a broad range of clients—developers, funds, logistics operators, data centre businesses and cold storage occupiers—on real estate requirements in Hong Kong. Armstrong brings over a decade of leasing and transaction experience across Hong Kong and the Middle East.

"Hong Kong's industrial market continues to attract international buyers and occupiers. Andrew's experience advising across the global industrial supply chain, combined with his strong local knowledge, will prove invaluable to our clients," said Vice Chairman of Newmark Hong Kong, Rhodri James. "His experience complements Newmark Hong Kong's comprehensive suite of services across office, industrial, retail and capital markets."

"This is an exciting opportunity to contribute to building a business that aims to bring nimbleness and global perspectives to the local real estate market," said Armstrong. "Industrial demand from MNCs and 3PLs remains robust in Hong Kong, and I look forward to applying market knowledge in areas such as automation to meet the complex and specific needs of those global users."

Hong Kong's recent lifting of the compulsory quarantine requirement for inbound travelers and introduction of a "0+3" arrangement are expected to have a positive impact on the economy, including the industrial and logistics sectors. These sectors are expected to benefit from favourable policy tailwinds including the Industrial Buildings Revitalisation Scheme and robust demand from international and domestic businesses for industrial space, especially in cold storage and data centres.

Armstrong held senior roles in industrial services at Colliers in Hong Kong and advisory and transactions services at CBRE in Dubai before joining Newmark.

About Newmark
Newmark Group, Inc. (Nasdaq: NMRK), together with its subsidiaries ("Newmark"), is a world leader in commercial real estate, seamlessly powering every phase of the property life cycle. Newmark's comprehensive suite of services and products is uniquely tailored to each client, from owners to occupiers, investors to founders, and startups to blue-chip companies. Combining the platform's global reach with market intelligence in both established and emerging property markets, Newmark provides superior service to clients across the industry spectrum. Newmark generated revenues of nearly $3.2 billion for the twelve months ending June 30, 2022. Newmark's company-owned offices, together with its business partners, operate from approximately 170 offices with over 6,500 professionals around the world. To learn more, visit nmrk.com or follow @newmark.

Discussion of Forward-Looking Statements about Newmark
Statements in this document regarding Newmark that are not historical facts are "forward-looking statements" that involve risks and uncertainties, which could cause actual results to differ from those contained in the forward-looking statements. These include statements about the effects of the COVID-19 pandemic on the Company's business, results, financial position, liquidity and outlook, which may constitute forward-looking statements and are subject to the risk that the actual impact may differ, possibly materially, from what is currently expected. Except as required by law, Newmark undertakes no obligation to update any forward-looking statements. For a discussion of additional risks and uncertainties, which could cause actual results to differ from those contained in the forward-looking statements, see Newmark's Securities and Exchange Commission filings, including, but not limited to, the risk factors and Special Note on Forward-Looking Information set forth in these filings and any updates to such risk factors and Special Note on Forward-Looking Information contained in subsequent reports on Form 10-K, Form 10-Q or Form 8-K.