October 11, 2023 9:00 AM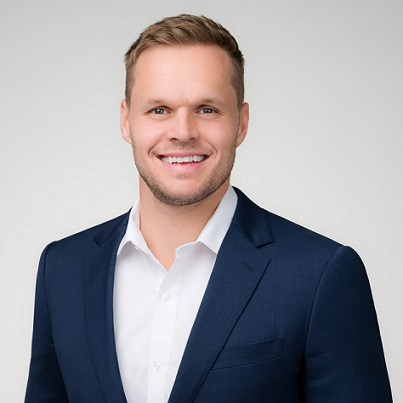 Newmark[1] announces that Tom Berry has joined the firm as Managing Director, specializing in the acquisition and disposition of golf and country clubs, golf resorts and master-planned golf communities throughout the country within the firm's Capital Markets group.

Berry, based in San Diego, brings nearly a decade of experience specializing in traditional broad-based and confidential offerings, section 363 bankruptcy, auction and court-ordered sales, and has been involved in more than $600 million in transactions.

"Tom's appointment reaffirms our commitment to providing the full spectrum of Capital Markets expertise and service to our clients," said Newmark President of U.S. Capital Markets Chad Lavender. "Bringing on Tom is a strategic move to fulfill yet another area of our alternative assets practice for our clients."

Newmark has been strategically focused on emerging and alternative asset classes, solidified by the Company's already dominant position in the space, in which the firm has ranked #1 in total investment sales representation for the last four and a half years[2]. In his role, Berry will work with Newmark's Capital Markets advisors on capital formation, financing and asset and portfolio sales. Additionally, he will work alongside the firm's Valuation and Advisory Hospitality, Gaming & Leisure practice, focused exclusively on hotel, casino, leisure and golf property strategies.

"Tom's competitive spirit and commitment to excellence have been evident throughout his career," said Greg May, Executive Vice President and West Region Market Leader for Newmark. "We are thrilled to have him on board and know his unique skill set and market knowledge make him a valuable asset to our firm and our clients."

Berry most recently helped to facilitate Arcis Golf's acquisition of Pacific Life's golf portfolio, which includes three nationally recognized clubs. Inspired by his achievements as a professional golfer across the globe, Berry's passion extended to a career as a real estate advisor; he previously served as an integral member of the Golf & Resort Group at CBRE.

Born and raised in London, Berry competed throughout Europe representing England Golf and later captained the San Diego State University golf team. His passion for golf extended to a professional career, where he played in Latin America, Asia and the United States on various PGA-affiliated tours.

Berry commented, "Newmark's established prominence in alternative investments, as well as its commitment to growing the golf and resort space, creates a unique opportunity in an accelerating industry. I'm looking forward to utilizing the platform's first-class capabilities and building on the momentum as we expand our Capital Markets platform into golf and resort properties."

[1] Dba Newmark Knight Frank in California
[2] According to MSCI Real Capital Analytics, seller and buyer representation, January 1, 2019 – June 30, 2023

About Newmark
Newmark Group, Inc. (Nasdaq: NMRK), together with its subsidiaries ("Newmark"), is a world leader in commercial real estate, seamlessly powering every phase of the property life cycle. Newmark's comprehensive suite of services and products is uniquely tailored to each client, from owners to occupiers, investors to founders, and startups to blue-chip companies. Combining the platform's global reach with market intelligence in both established and emerging property markets, Newmark provides superior service to clients across the industry spectrum. For the year ending December 31, 2022, Newmark generated revenues of approximately $2.7 billion. As of June 30, 2023, Newmark's company-owned offices, together with its business partners, operate from approximately 170 offices with over 7,400 professionals around the world. To learn more, visit nmrk.com or follow @newmark.

Discussion of Forward-Looking Statements about Newmark
Statements in this document regarding Newmark that are not historical facts are "forward-looking statements" that involve risks and uncertainties, which could cause actual results to differ from those contained in the forward-looking statements. These include statements about the effects of the COVID-19 pandemic on the Company's business, results, financial position, liquidity and outlook, which may constitute forward-looking statements and are subject to the risk that the actual impact may differ, possibly materially, from what is currently expected. Except as required by law, Newmark undertakes no obligation to update any forward-looking statements. For a discussion of additional risks and uncertainties, which could cause actual results to differ from those contained in the forward-looking statements, see Newmark's Securities and Exchange Commission filings, including, but not limited to, the risk factors and Special Note on Forward-Looking Information set forth in these filings and any updates to such risk factors and Special Note on Forward-Looking Information contained in subsequent reports on Form 10-K, Form 10-Q or Form 8-K.