May 23, 2022 9:00 AM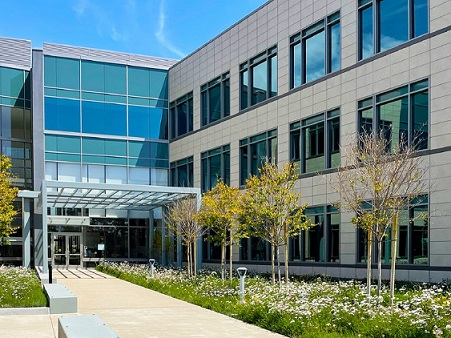 Newmark[1] announces that BD (Becton, Dickinson and Company), one of the largest medical technology companies in the world, has signed a 240,000-square-foot long-term lease at Park Point, a creative office/R&D campus located at 115, 135 and 155 North McCarthy Boulevard in Milpitas, California.

Newmark Vice Chairmen Jeff Arrillaga and Michael Saign and Executive Managing Director Shawn Kellenberger represented building owners Embarcadero Capital Partners and PCCP, LLC in the transaction. JLL's Managing Director Jodie Matthews, Senior Managing Director Steve Clark, Managing Director Grant Dettmer and Associate Joe Long represented the tenant. BD Biosciences will occupy the entirety of the 155 North McCarthy building and almost half of the 135 North McCarthy building.

"Embarcadero Capital Partners and our joint venture partner PCCP are excited to welcome BD Biosciences to Park Point in Milpitas. BD's commitment to Park Point is testimony to the project's large, efficient floor plates that are ideal for enabling innovation-based companies, wide array of outdoor collaborative and amenity spaces and convenient location near the intersection of Highway 237 and Interstate 880 in Silicon Valley," said John Hamilton, Principal at Embarcadero Capital Partners.

Located in the heart of Silicon Valley, Park Point is a three-building corporate campus comprising one, two-story and two, three-story steel-framed office/R&D buildings totaling approximately 472,000 square feet. HOK, a global design, architecture, engineering and planning firm, was the lead on the project's recent revitalization as a contemporary, amenity-rich workplace.

"HOK designed the extraordinary re-invention of Park Point featuring both indoor and outdoor amenities including a fitness center, outdoor kitchen and BBQ, pickleball court, volleyball court, basketball court, redwood grove with social fire pit terraces, picnic areas, custom ping-pong tables and outdoor collaboration areas with meeting tables and both lounge and café seating" noted Carol Donnelly, Director of Leasing at Embarcadero Capital Partners.

With Corsair's lease of the 115 North McCarthy building, BD's lease leaves less than 107,000 square feet available for lease at the campus. The remaining space at 135 North McCarthy Boulevard can accommodate a variety of office, lab, manufacturing and warehouse functions. It is located in the middle of the campus with convenient access to the project's many onsite amenities.

"PCCP is excited to welcome BD to our newly repositioned office project. Having Embarcadero Capital Partners' broad range of expertise has been invaluable, and with the completion of our second major lease, it is rewarding to see Park Point's value propositions further validated in the marketplace by another globally recognized corporation like BD," said Melanie Gangel, Senior Vice President, PCCP, LLC.

Puneet Sarin, Worldwide President for BD Biosciences, said, "Our new campus at Park Point positions BD for exciting growth and helps elevate our Biosciences business, research and development and operations capabilities now and in the future. The state-of-the-art campus accommodates our innovation-driven needs for collaboration, lab space and a flexible working environment, and is a testament to our continued commitment to the region and its vibrant and diverse talent."

Conveniently situated adjacent to VTA light rail and the new Milpitas BART Station, Park Point's location is optimal for companies looking to recruit and retain top Bay Area talent from the East Bay, Peninsula, and South Bay labor markets. The project is within easy walking distance of more than 50 restaurants, retail, service and hotel amenities.

"We are ecstatic that BD has selected Park Point for its new Silicon Valley campus," commented Saign. "The multi-functional work environment that the recent modernization of the campus offers aligns perfectly with the needs of today's top corporate occupiers."

"Embarcadero Capital Partners and PCCP recognized the valuable opportunity that Park Point presented in the marketplace and have effectively executed on a vision to bring the campus into a premiere state," added Kellenberger. "The team effort has already proven successful in attracting innovative tenants like BD and Corsair."

[1] Dba Newmark Knight Frank in California
About PCCP, LLC
PCCP, LLC is a real estate finance and investment management firm focused on commercial real estate debt and equity investments. PCCP has $16.8 billion in assets under management on behalf of institutional investors. With offices in New York, San Francisco, Atlanta, and Los Angeles, PCCP has a 23-year track record of providing real estate owners and investors with a broad range of funding options to meet capital requirements. PCCP underwrites the entire capital stack to exploit inefficiencies in the market and provide investors with attractive risk-adjusted returns. Since its inception in 1998, PCCP has managed, raised or invested over $31.5 billion of capital through a series of investment vehicles including private equity funds, separate accounts and joint ventures. PCCP continues to seek investment opportunities with experienced operators seeking fast and reliable capital. Learn more about PCCP at www.pccpllc.com.

About Embarcadero Capital Partners
Embarcadero Capital Partners is a private real estate investment, management, and development firm based on the San Francisco Peninsula. The firm invests in dynamic, development-constrained U.S. markets that are known for innovation and a creative business culture. Additional information about Embarcadero Capital Partners is available at embarcaderocapitalpartners.com.

About Newmark
Newmark Group, Inc. (Nasdaq: NMRK), together with its subsidiaries ("Newmark"), is a world leader in commercial real estate, seamlessly powering every phase of the property life cycle. Newmark's comprehensive suite of services and products is uniquely tailored to each client, from owners to occupiers, investors to founders, and startups to blue-chip companies. Combining the platform's global reach with market intelligence in both established and emerging property markets, Newmark provides superior service to clients across the industry spectrum. Newmark generated revenues in excess of $2.9 billion for the year ending December 31, 2021. Newmark's company-owned offices, together with its business partners, operate from approximately 160 offices with over 6,200 professionals around the world. To learn more, visit nmrk.com or follow @newmark.

Discussion of Forward-Looking Statements about Newmark
Statements in this document regarding Newmark that are not historical facts are "forward-looking statements" that involve risks and uncertainties, which could cause actual results to differ from those contained in the forward-looking statements. These include statements about the effects of the COVID-19 pandemic on the Company's business, results, financial position, liquidity and outlook, which may constitute forward-looking statements and are subject to the risk that the actual impact may differ, possibly materially, from what is currently expected. Except as required by law, Newmark undertakes no obligation to update any forward-looking statements. For a discussion of additional risks and uncertainties, which could cause actual results to differ from those contained in the forward-looking statements, see Newmark's Securities and Exchange Commission filings, including, but not limited to, the risk factors and Special Note on Forward-Looking Information set forth in these filings and any updates to such risk factors and Special Note on Forward-Looking Information contained in subsequent reports on Form 10-K, Form 10-Q or Form 8-K.