The domestic trucking industry, which transports nearly 75% of the nation's freight by tonnage¹, is grappling with mid- and long-term challenges that have contributed to ongoing supply chain instability. Demographic, regulatory, technological, economic, and environmental forces are converging to reshape the industry and solve some challenges while presenting new ones. This environment of industry change will inform where industrial occupiers place warehousing/distribution operations to optimize the efficient and cost-effective transit of goods. Labor is the predominant longstanding issue facing the trucking industry – particularly in long-haul trucking – for a myriad of reasons illustrated below.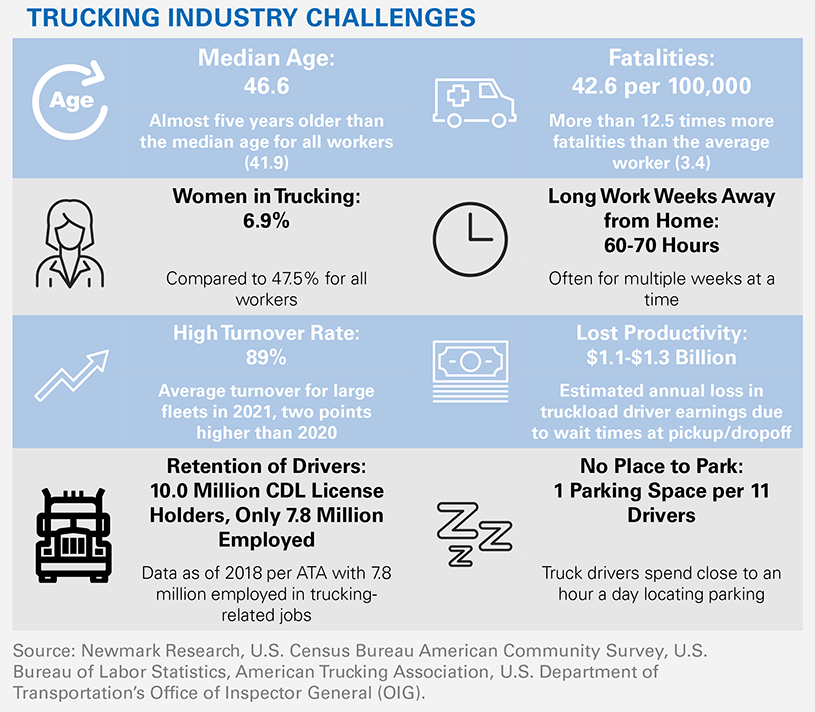 The past two years of elevated consumer spending exacerbated churn in the industry. Turnover dramatically increased as drivers took advantage of increased pay and signing bonuses, or established their own businesses, capitalizing on strong demand. Some relief to the high turnover and labor shortages may come with a correction in consumer spending due to persistently high inflation outstripping increasing wages. New trucking job postings have moderated from the 2021 peak, yet labor demand still well exceeds supply.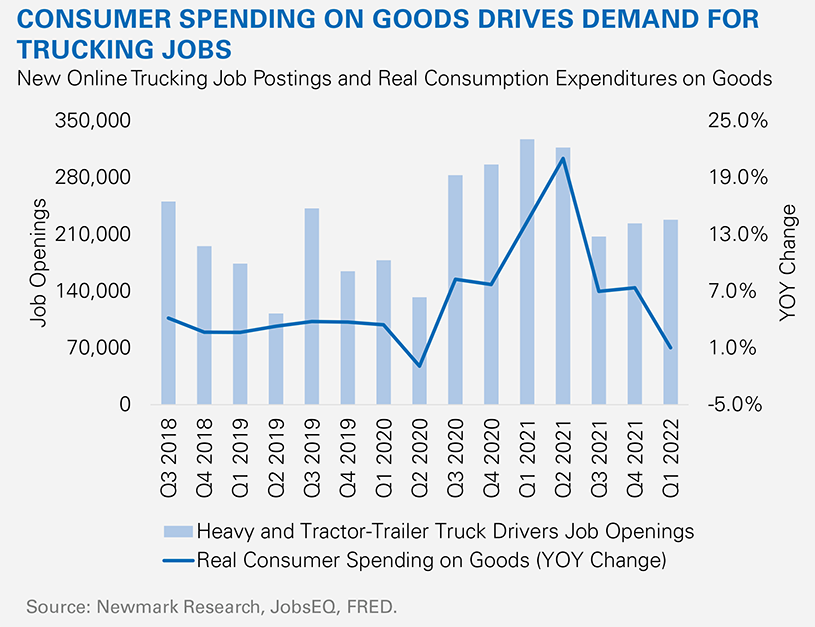 Long-term trucking industry labor challenges will persist due to retirements and chronic recruitment/retention problems. Industrial occupiers and fleet operators may solve for this by leveraging a demographic shift, especially among younger drivers, towards a preference for shorter line hauls and more time spent at home. With transportation costs (which account for approximately 50% of total logistics costs) driven relentlessly high by geopolitical turmoil, firms looking to control costs and appeal to a broader-based potential labor pool may expand the number of warehouse/distribution points along the supply chain. Additionally, the next generation of truck drivers is likely to come into an industry more catered to their preferences amid the push to meet ESG and regulatory requirements, particularly in California. Electric trucks hitting the market over the next few years will likely have a real-world average range near 250 miles2; charging infrastructure access will be a key factor in wide-scale electric vehicle (EV) adoption. EV mileage and charging limitations will create opportunities for landlords to entice ESG-minded occupiers to warehouses with charging capacity, which in turn could help those occupiers recruit and retain drivers with shorter line hauls. These trends indicate a need for a diverse portfolio of strategic warehouse locations in the coming years, especially in areas serving major seaports in a one-day drive or regional hubs with strong intermodal infrastructure and access to the most end-consumers in the shortest distance.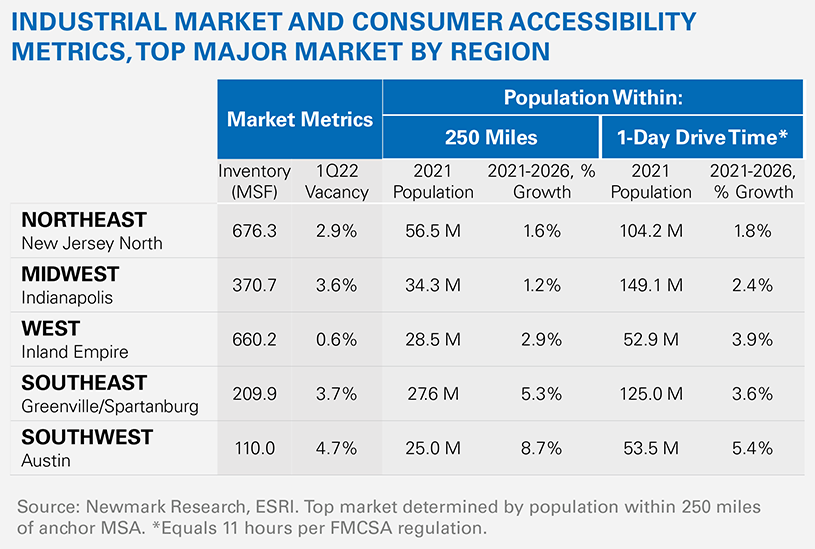 ---
1American Trucking Association
2North American Council for Freight Efficiency and Rocky Mountain Institute, High-Potential Regions for Electric Truck Deployments