The packaging industry plays a critical role in supply chain management and is a major occupier of industrial real estate. Packaging products protect goods during transport, facilitate returns and are crucial to establishing and maintaining brand identity in today's on-demand economy. The growth of e-commerce has increased the need for certain types of packaging, including corrugated boxes, which represent more than 80% of online-order packaging. Nationally, nearly 407 billion square feet of corrugated product was churned out in 2020 as online orders spiked during the pandemic, and demand is likely to remain elevated. Based on current space utilization of top corrugated occupiers, Newmark estimates that an extra 250,000 square feet of direct industrial space for every additional 1.0 billion square feet of corrugated product could be needed to accommodate annual growth.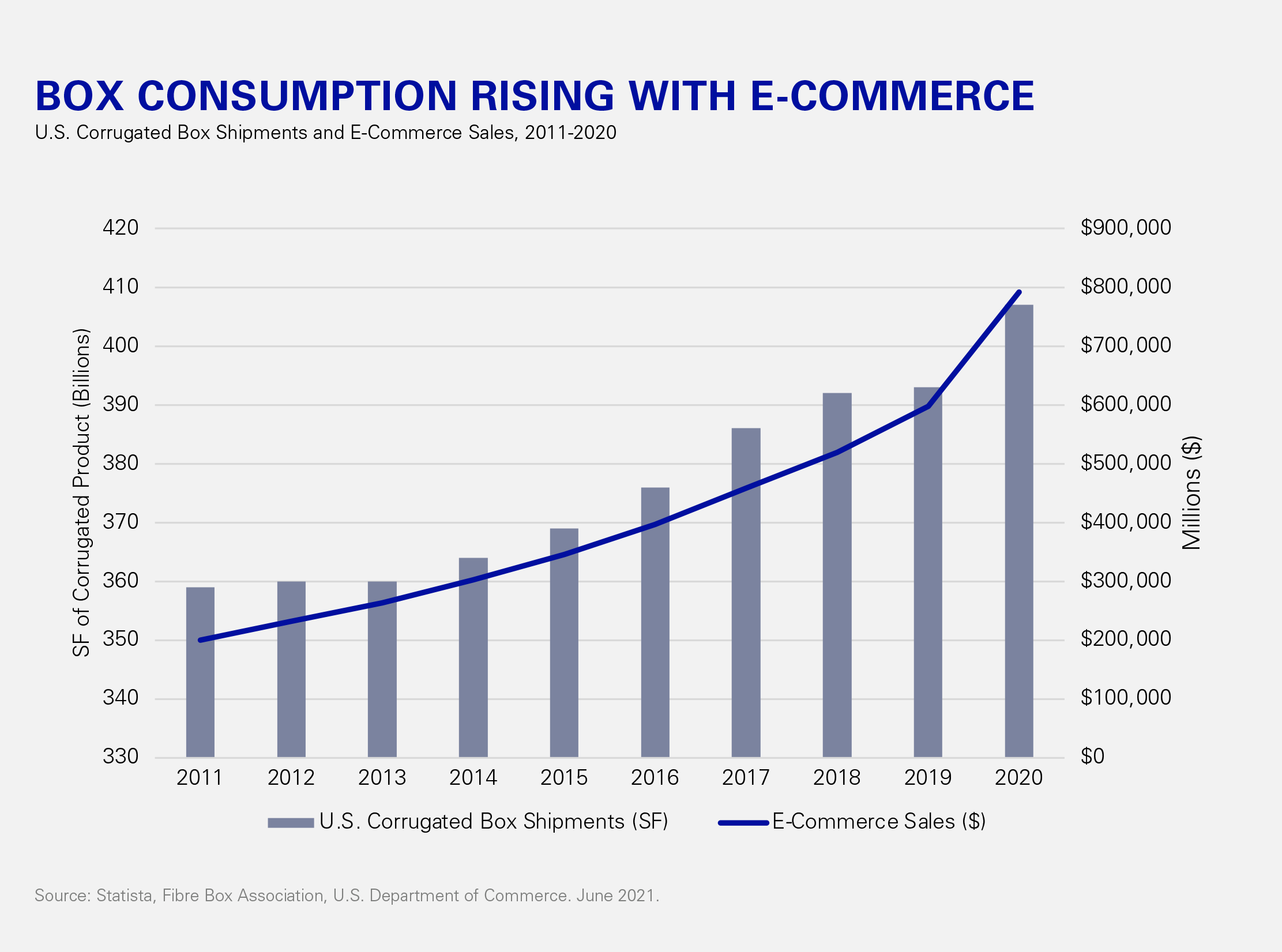 Across the packaging industry, companies are expanding their manufacturing and warehouse/distribution footprints to meet increased demand and locate closer to clients. These occupiers often have specific building needs such as heavy power for manufacturing processes, as well as rail access, which is economical for transporting bulky, low-cost materials. Markets with availability and developable land have supported greater packaging-industry expansion than supply-constrained coastal markets, where occupiers must weigh the cost and availability of real estate versus transportation costs. Over the past five years, leasing volume driven by the packaging industry has been 45% higher than the sector's 20-year average. Packaging firms have also expanded their footprint through heightened merger and acquisition activity, which has increased over the same period with average deal volume 30% above the 20-year baseline.
Industrial expansion from packaging companies is expected to continue in the post-COVID economy, with packaging industry growth forecast at 3.5% annually over the next five years in response to increased demand from the consumer and production side alike. Industrial space requirements may evolve as the sector becomes more efficient: with increased focus on Environmental, Social, and Governance (ESG) criteria, stakeholders across the spectrum of the packaging supply chain are looking to be more sustainable, agile and cost-conscious. While the nature of packaging is in evolution, the fundamentals of producing and delivering packaging materials to clients will continue to be supported by industrial real estate.