"Buy land; they're not making it anymore." – Mark Twain
Demand for modern industrial facilities to support supply chain evolution continues to sustain a historic development boom, which has strained a finite resource: land. Since 2015, an estimated annual average of 117,000 acres in the contiguous United States have been absorbed for the development of industrial properties¹. To visualize it another way, that equals a total roughly the size of the state of Rhode Island. One of the barriers to continued market expansion is the diminishing supply of viable land sites. This is most acute in urban gateway markets where developable land is scarce, expensive, and subject to competition from a multitude of potential uses. As firms build out their supply chain presence to serve regional population centers, many secondary markets are now reaching a point of maturation where land constraints are also being observed. This dynamic is driving up costs; across the U.S., average per-acre pricing on land purchased for industrial development increased 36.0% from mid-year 2020².
As of August 2021, more than 550,000 acres of land have been identified for proposed industrial facilities or are being publicly marketed for sale, ideally suited for industrial use. The majority of these sites are located in southern and western markets: Texas, Georgia, Florida and South Carolina alone account for a third of the current total estimate.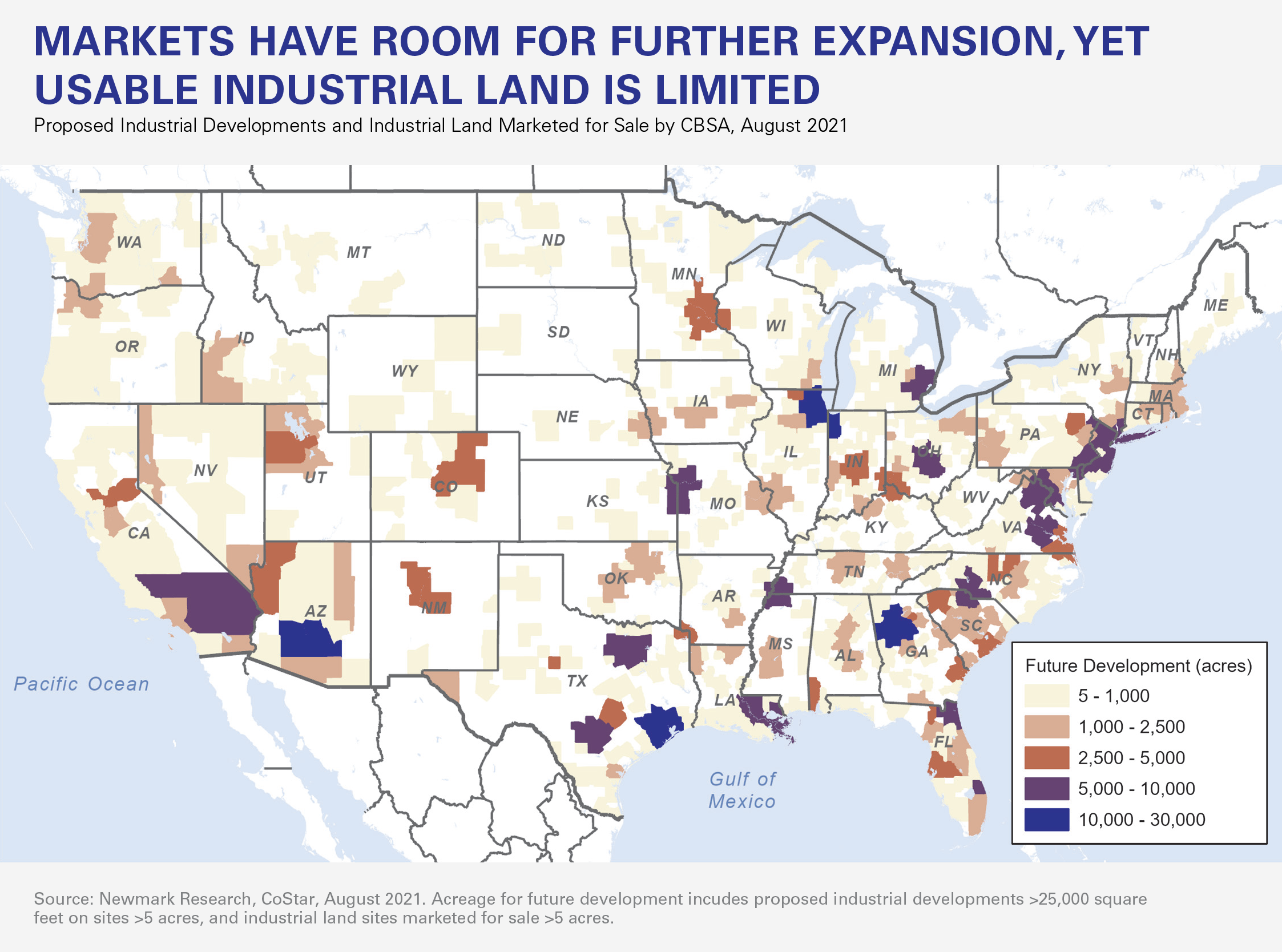 With dwindling acreage available for industrial development, how do developers find opportunities for industrial expansion? Renovation of obsolete industrial properties and redevelopment of underutilized non-industrial facilities are well-established and growing trends in many markets. These strategies offer solutions to supply and land constraints while modernizing market inventory. Longer-term strategies may include the remediation and revitalization of contaminated land sites. There are an estimated 500,000 brownfield sites across the country, and approximately 13,000 active Superfund sites tracked by the U.S. Environmental Protection Agency. Industrial redevelopment of these land sites takes time, yet has wide-ranging environmental, economic, and social benefits while satisfying continued robust demand for modern industrial space.