The sharp imbalance between supply and demand in the U.S. industrial sector is driving insatiable tenant interest in new-construction availabilities, which are in short supply. A survey of 23 key industrial markets found:
Speculative construction deliveries fell significantly in 2021 with developers citing pandemic-related labor disruptions, sourcing materials, lengthening entitlement periods, and community pushback to warehouse development as the primary causes.
Demand for modern warehouse space to improve supply chain efficiency and meet evolving consumption habits has never been higher, particularly from third-party logistics, consumer goods and e-commerce companies, which represented the majority of new-construction leasing.
Developers are attuned to occupier needs and design specs for new warehouses are quite uniform across the country: new speculative construction offers tenants with immediate-occupancy requirements the agility to move in swiftly, contributing to quicker leasing decisions.
These dynamics are reflected in the shortened duration between warehouse delivery and stabilization*. For buildings that have reached stabilization, the average length of time between a speculative warehouse delivering to the market and being fully leased was less than a single quarter in 2021, with many preleasing well before delivery. This duration is down from an average of 3.9 quarters in 2015. Across the markets surveyed, 25% of spec space delivered in 2021 had yet to reach stabilization by year-end, the majority of which delivered in the second half of the year. Some landlords of newly-delivered properties are delaying leasing decisions to achieve the most current market rents – in some regions with extremely tight vacancy and high demand, the velocity of rent growth is such that a moment after a lease signs, the contract rate is already under-market.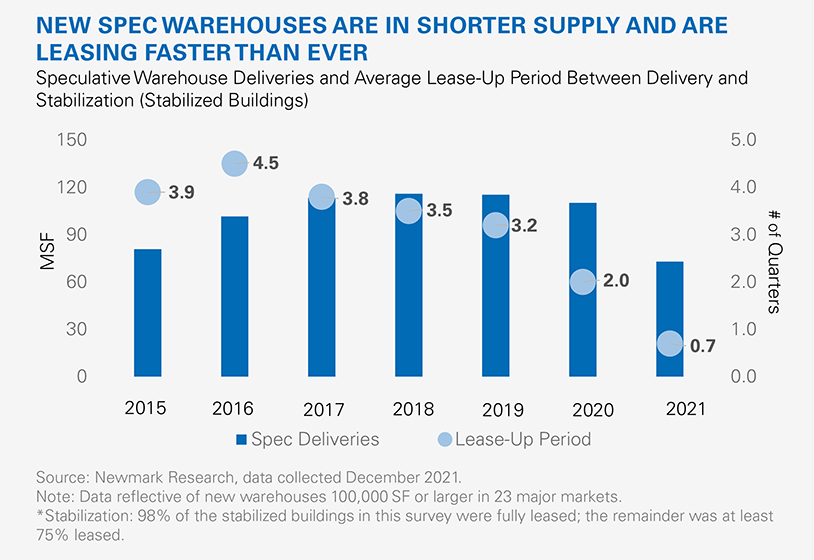 The construction pipeline rose to half a billion square feet underway in Q4 2021, the most on record. Speculative warehouses account for approximately 77% of that volume, in line with the 5-year average share. As disruption to construction timelines subsides and speculative deliveries increase, experts expect the average lease-up period to gradually lengthen over the next few years as tenants are presented with more options. Tenants with move-in requirements this year will face a continuing environment of scarcity and competition in most markets, as supply-chain and labor challenges persistently impact delivery timelines.