July 12, 2021 12:00 PM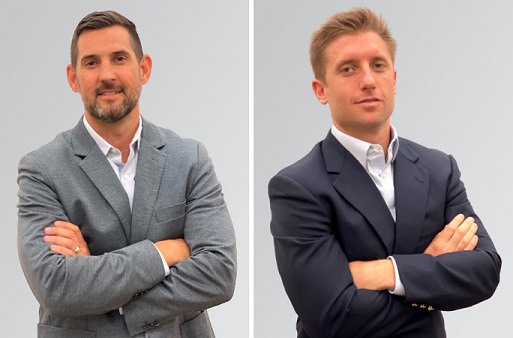 Newmark is pleased to announce that debt and structured finance experts, Ben Roelke and Ian Walker, have joined the firm as Executive Managing Director and Senior Managing Director, respectively. With more than 27 years of combined commercial real estate experience, Roelke and Walker specialize in the placement of debt and structured finance for student housing and multifamily properties across the U.S. Based in the firm's Dallas office, the duo will partner with Newmark's Student Housing group of Vice Chairman and head of the group Ryan Lang, Director Trent Houchin, Associate Director Jack Brett and Transaction Manager Ben Harkrider.
Roelke and Walker have originated and structured over $6 billion in capital for private and institutional clients through varying executions and capital structures. They provide solutions for the entirety of the capital stack and all stages of a property life cycle including joint venture or preferred equity, interim/bridge financing, construction financing and permanent financing through Fannie Mae and Freddie Mac, life insurance companies and commercial banks.
"We are thrilled to welcome Ben Roelke and Ian Walker to Newmark's Capital Markets platform. With an impressive track record and exceptional client service in the student housing industry, Ben and Ian's breadth of knowledge and depth of experience in debt and structured finance will contribute to our leading student housing platform," said Sharon Karaffa Vice Chairman, Co-Head of Production of Newmark's Multifamily Capital Markets group. "Newmark is committed to expanding our real estate capabilities, delivering actionable strategies through best-in-class talent."
Lang added, "Investors continue to be incredibly bullish on student housing assets across the U.S. The addition of Ben and Ian will serve to deepen our student housing platform and its leading capabilities and range of services." According to analysis of data from Real Capital Analytics, Newmark's Student Housing group ranks #1 nationally based on total brokered transaction volume and number of deals completed year-to-date in 2021.
Roelke and Walker are joining Newmark from CBRE. Consistently ranked as a top national top producer, Roelke was most recently an Executive Vice President who led the company's National Student Housing Debt and Structured Finance practice. Walker was a Vice President with that practice. With international experience and relationships, Walker also worked in London to build a Capital Markets team, responsible for raising capital for developers and operators to build and buy multifamily and student housing properties throughout the United Kingdom.
"As student housing continues its pace as a stable and growing asset class throughout the pandemic, the opportunity to join Newmark and contribute to its leading student housing capital markets and debt and structured finance platforms is incredibly exciting," concluded Roelke.
About Newmark
Newmark Group, Inc. (Nasdaq: NMRK), together with its subsidiaries ("Newmark"), is a world leader in commercial real estate, seamlessly powering every phase of the property life cycle. Our comprehensive suite of services and products is uniquely tailored to each client, from owners to occupiers, investors to founders, growing startups to leading companies. In 2020, Newmark generated revenues in excess of $1.9 billion. Newmark, together with London-based partner Knight Frank and independently owned licensees, operates globally from approximately 490 offices with 19,300 professionals. To learn more, visit nmrk.com or follow @newmark.
Discussion of Forward-Looking Statements about Newmark
Statements in this document regarding Newmark that are not historical facts are "forward-looking statements" that involve risks and uncertainties, which could cause actual results to differ from those contained in the forward-looking statements. These include statements about the effects of the COVID-19 pandemic on the Company's business, results, financial position, liquidity and outlook, which may constitute forward-looking statements and are subject to the risk that the actual impact may differ, possibly materially, from what is currently expected. Except as required by law, Newmark undertakes no obligation to update any forward-looking statements. For a discussion of additional risks and uncertainties, which could cause actual results to differ from those contained in the forward-looking statements, see Newmark's Securities and Exchange Commission filings, including, but not limited to, the risk factors and Special Note on Forward-Looking Information set forth in these filings and any updates to such risk factors and Special Note on Forward-Looking Information contained in subsequent reports on Form 10-K, Form 10-Q or Form 8-K.